NEWS
Lindsay Lohan Too "Difficult" for Dr. Drew to Treat?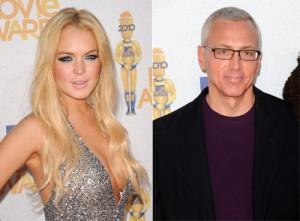 Dr. Drew Pinsky is one busy guy! He already juggles Celebrity Rehab, Sober House, Loveline and his more traditional doctor's job in Southern California. Now, Drew is also adding an HLN talk show to his schedule. But there's still one thing the addiction specialist doesn't want to make room for in his heavy workload: treating "very difficult" patients Lindsay Lohan and Charlie Sheen!
The celebrity therapist opened up to PopEater about the struggles with treating patients like LiLo and Charlie, as well as responding to the criticism he's received about his reality shows.
Article continues below advertisement
OK! GALLERY: LINDSAY LOHAN'S HOUSE IS A SHINING, SOBER BEACON
When asked what his response was to accusations that he takes advantage of addicts on his shows, Drew said: "I'm a little confused by that. On the one hand, these are people that are not particularly motivated to seek treatment, yet they desperately need it. They come to us because they're motivated to be on TV and make money and because of that skewed motivation we're able to keep them in treatment. The extraordinary thing we've discovered is that they don't leave treatment."
Dr. Drew said that the patients' twisted motivations help him to work more "intensely" with them than he'd be able to otherwise, since they have the promise of a paycheck keeping them in therapy.
OK! NEWS: DR. DREW SAYS LINDSAY LOHAN "HAS FINALLY MADE THE RIGHT TURN"
He explained, "In usual treatment, when you get going intensely, they leave and say, 'Screw this, I'm going to do drugs.' These guys stay and they end up eventually getting with the program. I think you'll find almost every person who's done it feels it was a life-changing experience and wanting to be an inspiration to other people."
Article continues below advertisement
The doctor continued his defense: "So if it's a mercenary or exploitative experience, you would think we would be taking something from them for ourselves. They're getting paid, often considerably more than I am, they're getting great treatment and a great outcome and they feel good about it. So how is that exploitative? Are we playing on their fame-seeking? Sure, but in terms of getting on the other side you'll see less of them on TMZ."
DR. DREW ON AMBER & GARY: "THEY'RE TRAUMATIZED"
After Drew denied having any "dream celebrity" to have on the show, PopEater asked, "Wouldn't you love to have Lindsay Lohan?" The good doctor responded, "No, I wouldn't love it."
He explains his aversion to treating Lindsay as an effect of her being "a very difficult patient. The only way I would take her is if she would agree to stay in treatment for one year."
Article continues below advertisement
When questioned as to what makes her difficult, Drew cheekily asked, "Really?" and laughed.
IN THIS ISSUE: DR. DREW — "MACI IS DEEPLY ATTACHED TO RYAN"
Dr. Drew also noted that notorious bad boy Charlie Sheen is a very similar case to LiLo and would need at least a year for rehabilitation.
That isn't to say that Dr. Drew doesn't believe he could and would help these troubled stars, only that it would take more time than they are probably willing to commit to recovery.
"I do think my team could really help them in a special way, TV or not TV, but they need longer term," Dr. Drew concluded.
By Sadie Gennis