NEWS
Lindsay Lohan Wears 3K Evil Eye Necklace to Court for Jewelry Theft Case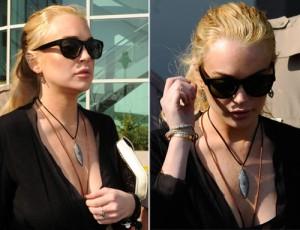 While Lindsay Lohan may have left her expletive nail art home for her hearing yesterday, she still managed to display a message in her cleavage. The troubled 24-year-old starlet reportedly sported a $3,000 necklace in court Wednesday as her case for the theft of a $2,500 necklace rages on.
OK! GALLERY: LINDSAY LOHAN BRINGS HER CLEAVAGE TO COURT; TRIES TO DRESS MORE CONSERVATIVELY
It may come as no surprise from Lindsay as she has written "f**k you" on her nails, worn a micro-mini white dress and cleavage-baring tops to court in the past, but her choice of jewelry seems a bit ironic.
Article continues below advertisement
LiLo's Tres Glam Eye Necklace and Heart Locket Earrings were on display in court, and the evil eye statement (to ward off evil) piece costs $3,000, according to Refinery 29 reports.
Reality mavens Brittney and Lisa Gastineau design the line.
Seems fitting that Brit helped a fellow starlet out! Also, what better way to promote your brand then to have Linds wear it to court!