NEWS
Lindsay Lohan's Alcohol Program Being Investigated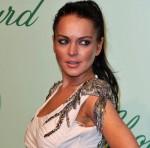 Lindsay Lohan finally appeared in court last week and was sentenced to wear a SCRAM bracelet under probation, but the L.A. County Deputy D.A. is still on her case.
According to TMZ, D.A. Danette Meyers wants to investigate the alcohol program that Lindsay had claimed to be attending.
PICS OF LILO AS PORN STAR IN 'INFERNO'
She tells TMZ, that she will, "be focusing all of my efforts on Ms. Lohan's upcoming hearing."
Article continues below advertisement
The prosecutor believes that the Right On Program was covering for the 23-year-old when she really didn't follow the rules and attend all meetings.
LINDSAY LOHAN ASKS CHANEL TO SCRAM
Originally it was reported that the starlet was late for her classes and did not attend enough meetings to be in compliance, although she passed the program.