NEWS
Lindsay Lohan's Harasser Identified as Former Britney Spears Pal?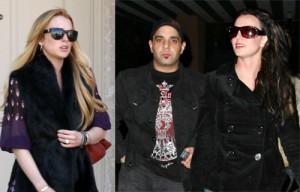 It looks like Lindsay Lohan's creepy phone stalker might be the same guy who once got into hot water over Britney Spears during her meltdown in 2008.
While undergoing treatment at the Betty Ford Clinic, Lindsay has reportedly been receiving increasingly strange text and voicemail messages on her cell phone, some of which creepily claim to be watching her.
OK! GALLERY: LINDSAY LOHAN'S HOUSE IS A SHINING, SOBER BEACON
Article continues below advertisement
According to TMZ, Lohan's reps believe the harasser may be Sam Lutfi, who was the object of a restraining order on behalf of Britney Spears' conservators in 2008. Sources claim that Lutfi has been in recent touch with Michael Lohan, as well, and that the messages warn Lindsay away from her Mom Dina. The story also reports that the texter falsely claimed to be a reporter working for TMZ, using a number that appeared to trace right back to Lutfi himself.
OK! GALLERY: LINDSAY LOHAN TAKES A COFFEE & CIGARETTE BREAK FROM REHAB
The messages and their tone have caused enough concern among Lilo's people that Lindsay was moved to an undisclosed location for safety purposes, while her reps warned Lutfi to keep his distance. Lutfi, meanwhile, is denying the allegations, stating that Lindsay's reps are simply out to get him.
By Angela Mitchell