NEWS
Lindsay Lohan's Ultimatum: Stay Clean or Back to Jail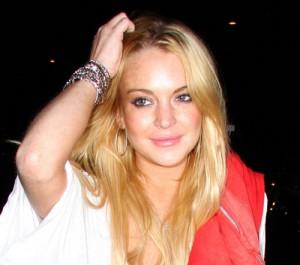 The new parameters of Lindsay Lohan's post-rehab probation have been set, and the 24-year-old is not out of the woods! LiLo, who was not present at today's hearing, had lawyer Shawn Chapman Holley plead her case to Judge Elden Fox, who delivered a strict ruling, which if not followed can result in more time behind bards for the actress.
Fox ordered the following regulations for the now "free" Lindsay, who is under a strict supervised probation.
Article continues below advertisement
• Lindsay is ordered to reside only at her L.A. home until her case is re-addressed.
• Attend a minimum of four psychotherapy sessions a week.
• Attend a minimum of five 12-step program meetings a week.
• Attend a minimum of two private chemical dependency sessions a week.
• Submit to two random drug and alcohol tests a week.
• Attend a minimum of two behavioral therapy sessions a week.
The judge made clear that if Lindsay misses one random test or she tests positive on one of these random tests, she will be incarcerated in county jail for 30 days for each violation.
Lindsay's case will be re-addressed at a follow-up probation hearing scheduled for Nov. 1.
If the actress remains in good standing on Nov. 1, she will be unsupervised and allowed to reside elsewhere.
Article continues below advertisement
"Ms. Lohan is very serious about her sobriety," Holley said, addressing the court today. "She looks forward to proving to the court that she is serious and will demonstrate to all of us she has learned her lesson and will show us that."
In a press conference directly following the hearing, Holly praised her client and said she was happy to see her released from rehab early.
"It was really realized the amount of time she was required to spend at UCLA rehab was unnecessary, and it was in her best interest to have her as an outpatient where the life lessons she learned inside can be incorporated into her real life."
So does Holly feel Lindsay was misdiagnosed?
Article continues below advertisement
"The UCLA staff did a fresh evaluation and recognized there was no need for her to be there any longer. She has done everything asked of her. She has changed. She is healthy. Clear-headed and looking forward"
"Anyone would have changed given what she has gone through," Holly added. "She looks forward to beginning a new and having a productive life and schedule."
Now that Lindsay is a free bird, will she hit up the Machete — which she posed in numerous provocative ads for — screening in L.A. tonight?
"She prefers to stay at home and celebrate the victory in court," Holly said.
Lindsay was released from UCLA rehab center shortly after 8 p.m. Monday evening. Police used decoys to get the actress out without the media following.