NEWS
Lindsay Returns to Ugly Betty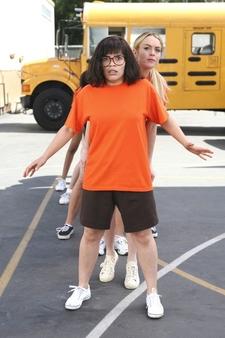 Fans just can't get enough of Lindsay Lohan!
The actress is returning to Ugly Betty as Kimberly, Betty's high school nemesis, next week to shoot her ongoing guest stint for the show's third season, premiering Sept. 25 on ABC.
Executive Producer Silvio Horta says she expects Lindsay to make another surprise set entrance.
"She did a half-day last season and she came early," he tells OK!. "She was 45 minutes early. I was impressed."
Article continues below advertisement
Horta admits that one of the reasons he cast Lindsay, who approached him for a role, was because he was fascinated by the headlining starlet.
"Lindsay brings a reputation, but I've always loved her," he says. "I just wanted to meet her, to be in a room with her and see what this is all about."
He says he recognizes that Lindsay has dealt with her past demons. "She fell into whatever the typical traps of stardom are, " he says. "I think this is a real great opportunity for her. I'm really excited."