NEWS
Is Lindsay Trying to Play Fashionista?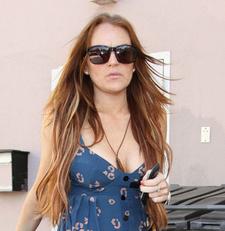 If we can be honest for a few minutes, it's safe to say that Lindsay Lohan's last few films haven't exactly set records at the box office. So maybe it's no surprise that a new report claims the star is attempting to make the move from the big screen to high fashion.
According to an item in today's NY Post, LiLo has been in discussions with the folks at Emanuel Ungaro about the possibility of her becoming a "creative consultant" for the fashion line. It's a move that the paper's source claims is intended to bring a new buzz to the design house.
Article continues below advertisement
But, says the source, Ungaro's current head designer, Esteban Cortazar, isn't exactly thrilled about the idea.
"Esteban is threatening to leave the company if they bring Lindsay on as a consultant," the Post quotes a source as saying. "It has been a revolving door of designers there and if he leaves, his team will go with him."
Adds the source, "Ungaro thinks Lindsay is going to bring the company new energy and new buzz, but she is going to be the nail in the coffin. Nobody will take them seriously ever again."
RECENT PICS OF LINDSAY:
<a href="http://www.okmagazine.com/pixandvids/gallery/14486/1" target="_blank"><img src="https://d-images.okmagazine.com/img/photos/large/29925.gif" height="100"/></a> <a href="http://www.okmagazine.com/pixandvids/gallery/14486/2" target="_blank"><img src="https://d-images.okmagazine.com/img/photos/large/29924.gif" height="100"/></a> <a href="http://www.okmagazine.com/pixandvids/gallery/14486/3" target="_blank"><img src="https://d-images.okmagazine.com/img/photos/large/29923.gif" height="100"/></a> <a href="http://www.okmagazine.com/pixandvids/gallery/14094/1" target="_blank"><img src="https://d-images.okmagazine.com/img/photos/large/29210.gif" height="100"/></a> <a href="http://www.okmagazine.com/pixandvids/gallery/14094/2" target="_blank"><img src="https://d-images.okmagazine.com/img/photos/large/29209.gif" height="100"/></a> <a href="http://www.okmagazine.com/pixandvids/gallery/14094/3" target="_blank"><img src="https://d-images.okmagazine.com/img/photos/large/29208.gif" height="100"/></a> <a href="http://www.okmagazine.com/pixandvids/gallery/14094/4" target="_blank"><img src="https://d-images.okmagazine.com/img/photos/large/29207.gif" height="100"/></a> <a href="http://www.okmagazine.com/pixandvids/gallery/14094/5" target="_blank"><img src="https://d-images.okmagazine.com/img/photos/large/29206.gif" height="100"/></a> <a href="http://www.okmagazine.com/pixandvids/gallery/14094/6" target="_blank"><img src="https://d-images.okmagazine.com/img/photos/large/29205.gif" height="100"/></a> <a href="http://www.okmagazine.com/pixandvids/gallery/14094/7" target="_blank"><img src="https://d-images.okmagazine.com/img/photos/large/29204.gif" height="100"/></a>