NEWS
Lindsay's New Lawyer Releases Official Statement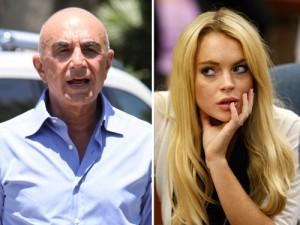 In a statement that lets everyone know he will not be letting Lindsay Lohan get away with anything she shouldn't, Robert Shapiro has released an official announcement regarding his decision to be the troubled starlet's new lawyer.
"I have agreed to represent Ms. Lohan on the condition that she complies with all of the terms of her probation, including a requirement of jail time that was imposed by Judge Marsha Revel," Shapiro says in the statement.
Article continues below advertisement
OK! GALLERY: LINDSAY LOHAN'S FAVORITE VISITORS AT REHAB
He continues: "Ms. Lohan is suffering from a disease that I am all too familiar with. Hopefully, I can be of assistance to Ms. Lohan and Judge Revel in implementing a treatment approach recommended by medical professionals for Ms. Lohan's long term recovery and sobriety."
Shapiro, who was one of O.J. Simpson's attorneys during his 1995 murder trial, lost his son Brent in 2005 to a drug overdose.