NEWS
Lindsay's Non-Stop Party Train Continues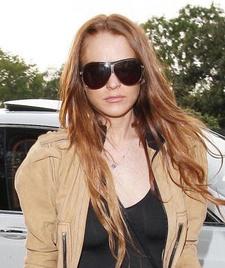 Now that's single and "taking time for herself," headline-happy starlet Lindsay Lohan's life has become one big party, as the actress extended her weekend of club-hopping straight through Monday night and into Tuesday morning.
Around 12:30 a.m. last night, Linds and a lady friend were dropped off by mom-of-the-year Dina Lohan outside exclusive Hollywood hotspot Bardot, where the Herbie Fully Loaded star stayed at Bardot until it closed at 2 a.m.
Article continues below advertisement
"She was drinking Jack and Cokes," witnesses at Bardot tell OK!, noting that the whiskey and cola cocktail is a fave of Lindsay's ex-flame Samantha Ronson. And according to those inside the club, she spent most of the night sitting on the dance floor, texting on her BlackBerry.
One source at the club tells OK! Lindsay was flirting with a member of the Bardot staff — and it's not the first time she's fluttered her eyelashes at him. On a previous visit to Bardot a few weeks ago, sources tell OK! "Lindsay was flirting with this guy and then had her friend ask him for his number. The guy wasn't interested at all, but gave her his business card."
We're told that on Monday night, Lindsay once again tried to make small talk with this same gentlemen, and that she received the same indifferent response from the object of her affection.
Maybe the third time's the charm?
RECENT PICS OF LINDSAY: