NEWS
Lisa Kudrow: I'll Get Surgery When I'm 60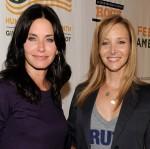 Article continues below advertisement
"But still, you want to look good. So it's sometimes just hard to watch yourself, like, 'Oh god, what's happening to me?' There's a line between looking like yourself and looking like a character from a Batman movie."
Refusing cosmetic surgery has had other benefits for the 46-year-old. "In Cougar Town I played a dermatologist, and so the only note I had on the script was that I have to say that I haven't had any work done — it's too noticeable not to mention. Boy, I really hope I can put it off until I'm 60 or 70. I'll keep you posted."
OK! NEWS: COURTENEY COX OPENS UP ABOUT MARRYING A YOUNGER MAN
Talking of Cougar Town: "I think Courtney Cox's hilarious in it," says Lisa. "She's not just a pretty girl; she's really goofy and ridiculous."
Meanwhile, the blonde is celebrating the success of hosting and producing her hit NBC show about celebrity genealogy, Who Do You Think You Are?.
Article continues below advertisement
"It's going great — I mean, wow, much beyond our expectations, I have to say. I knew it was good, but the question was if enough people would show up on a Friday night to watch it — and then they did," she says of the primetime gamble.
"I was always going to do an episode on myself, but I kept thinking, 'Well, maybe they won't get the records they need.' It's tough to find Eastern European records on Jewish people."
OK! NEWS: FRIENDS REUNION ON COURTENEY COX'S COUGAR TOWN
She also reveals which celebrity's journey was her favorite: "Emmitt Smith, he was fantastic. How complicated is it that the person who owned your family is also your great-great grandfather?
"And he responded really clearly, like, 'I'm glad that my heart's not like his. And I'm glad he doesn't know me'."