NEWS
'Little People, Big World' Stars "Sad" Over Rosie O'Donnell's "Mild Fear of Little People" Comment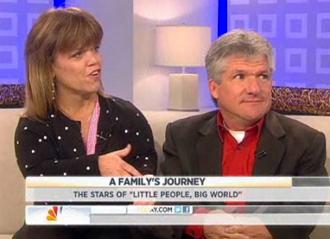 During a recent interview with Chelsea Handler on The Rosie Show, Rosie O'Donnell confessed she has a "mild fear or anxiety around little people." On the Today show this morning, TLC's Little People, Big World stars Matthew and Amy Roloff spoke out, saying the comments made them "sad."
OK! NEWS: CHELSEA HANDLER DISCUSSES HER ABORTION AGAIN ON THE ROSIE SHOW — "NO REGRET AT ALL"
It all started when Rosie brought up Chelsea's co-host Chuy, who is a little person, on Chelsea Lately. While Chelsea said she loves little people, Rosie said she's afraid of them.
Article continues below advertisement
"I'm a little ashamed about it but I have a mild fear or anxiety around little people," Rosie said. She then asked Chelsea, "Would you ever do a little person?"
"No, that would be child abuse," Chelsea said. "I'd never do that."
Rosie explained, "That's half my issue. The problem with me is I can't put the two things together. This is an adult person, a little person...it's so hard for me."
OK! NEWS: THE LITTLE COUPLE BABY UPDATE — "WE'RE WORKING WITH THE SURROGATE"
Well, Matt and Amy decided to have their family on a reality show in hopes they could help change the way little people were perceived. So, the couple explained on Today that the comments made them disappointed.
"We've still got work to do and there's still people out there that are afraid of little people and having fears," Matt explained on Today. "But I think we've made a ton of progress, and I think our show has just been one of many. A lot of people have done a lot of work over the years."
Article continues below advertisement
And Amy said that Rosie's attitude is one that they've encountered.
"Yeah, it really is. It has been an attitude," she said. "To think of yourself in one way and to have someone else think of you that way, it plays on you. I was taken back. I was sad, really to hear that from someone."
"But you know, like Matt and I have talked about, it does give us an opportunity to validate what we have done and what other little people have done," Amy added. "There's still work to do. You're never going to get rid of it, totally. But if we can continue to open that door up more, I think it's great."