NEWS
Lo Bosworth Is in Culinary School! She Spills on Her Favorite New Recipes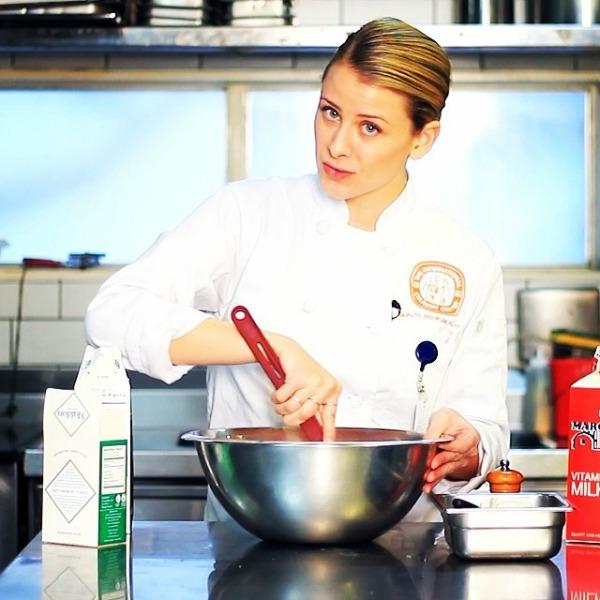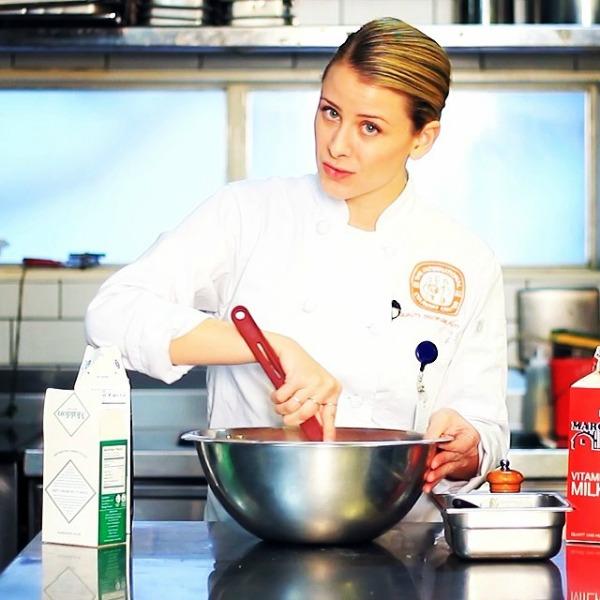 Lo Bosworth seemed like a great pal to have when she was on The Hills, but she's really stepped up her friendship game since the show ended. She started Revelry House, a lifestyle and entertaining company, and she's currently enrolled in culinary school. She's your party master! She's now teaming up with Libby's to draw attention to pumpkin, the under-appreciated super food. Read on for her delicious ideas!
Article continues below advertisement
OK! News: See why you might feel worse for Tori Spelling than you do for Lindsay Lohan.
OK!: Have you always loved to cook?
Lo Bosworth: Always. I grew up cooking with my mom. She made dinner for my family five or six nights a week. I'd come home from school and hang out with her in the kitchen and that's where I really first started to learn. The past couple of years, I have really improved my skills. I throw dinner parties for 12 to 20 friends. I am a student at the International Culinary Center in New York. I'm graduating in June, which is right around the corner! Soon I'll be Chef Lo.
OK!: Why did you decide culinary school now?
LB: Cooking had always been my biggest passion, and I have been creating content for a long time in the lifestyle space. I have wanted to focus on food, so going to school was an important part of not only the creative process for me, but also for credibility.
OK! News: Find out all the ways in which Prince George is a shockingly normal baby.
OK!: What has been the biggest challenge so far?
Article continues below advertisement
LB: The program is five days a week, I'm on my feet for almost eight and a half hours, so from a physical point of view, getting that stamina and endurance to get through the day has definitely been the most challenging part. After the first couple of weeks, I got much better at it. It's totally different than being in an office job!
OK!: What's the best skill you've picked up?
LB: I think sauces. I really enjoy making sauces, and now it's something I'm quite good at. I think I have the right palette. I can season appropriately, and make sure the consistency is on point.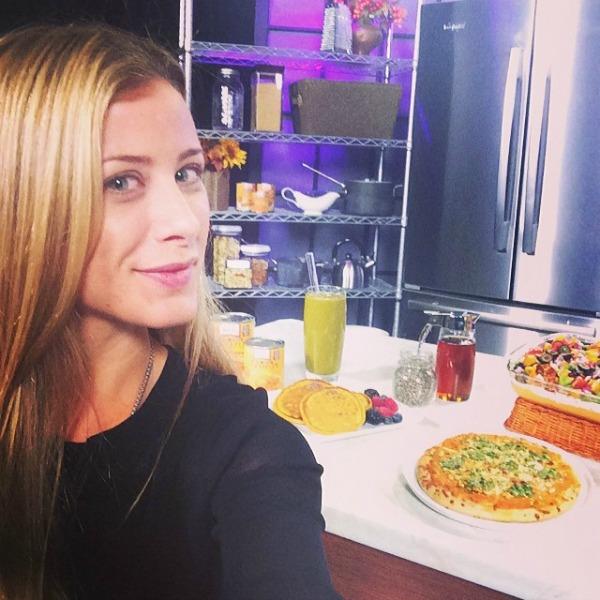 OK!: You're a busy gal, and you live in New York. When you get home and you're exhausted, how do you resist take-out? And is there a quick, go-to meal you have?
LB: Oh, everyone splurges so often in New York. Actually, I eat a lot of pumpkin. The pumpkin snacks I've been eating recently have been really great. I'll have a piece of toast with peanut butter in the afternoon, and instead of peanut butter, I'll replace half with pumpkin. You can put pumpkin into your hummus, and I'll eat it with carrots. And I know this sounds crazy, and everyone from Libby's think I'm nuts, but I eat it out the can with agave and a little sea salt! It's delicious, and so low calorie.
Article continues below advertisement
PHOTOS: Rihanna just posted some very naked Instagrams! Check 'em out here.
OK!: Can you tell me more about the campaign, and your work with Libby's?
LB: Absolutely. So excited to partner with them! I am all about a healthy lifestyle, healthy eating, and pumpkin is a super food, which is really the message we are bringing to everybody. Pumpkin is definitely something you should incorporate into your diet, not just during the holiday time, not just pumpkin pie. We have put together a ton of great recipes and tricks, ways to incorporate this super food into their diet. For baked goods, it's really exciting because you can use pumpkin as a substitute for eggs, butter, oil, so that cake has way less calories, way less fat. On the savory side, it's a beautiful flavor addition to so many dishes. There's a pumpkin pizza recipe. I made it the other night for friends and it was gone so fast!
OK!: People think of pumpkin as a really indulgent food, like in pie. Are there very light dishes to add it to?
LB: Absolutely. I like to add it to a salad, like in a pumpkin dressing. And just as a snack food, like I said. There's also a smoothie I've been drinking, that's pumpkin, pineapple, and banana. It's kind of like putting spinach into your smoothie; you add a little bit in, and it really impacts the nutritional value of what you're drinking.
Article continues below advertisement
OK! News: Are Kim Kardashian and Kanye West getting married this weekend?!
OK!: I also think of it as a fall food, so are there good spring and summer vegetables it pairs well with?
LB: Definitely citrus. It goes really well with citrus fruits, which is surprising to me. Give that a try.
OK!: You're definitely a healthy eater, but what are your favorite ways to stay fit?
LB: I am a SoulCycle freak. I go four days a week. I also go to 305 Fitness, which is a cardio dance class which is in New York, and there's a live DJ at every class. If you go at night, they do it in the dark. It's really fun. And then I do random classes here and there at Equinox. I'm really passionate about group fitness. I like working out with a group of people, because I think the energy in the room makes everyone work harder. I struggle to go to the gym by myself and run on a treadmill.
OK!: Since you are such a wonderful hostess, I was wondering if you have any ideas for a Cinco de Mayo party?
LB: There's a great recipe on the pumpkin can website, for a dip that would be perfect for Cinco de Mayo. It's layered, but healthy layers that people would be into.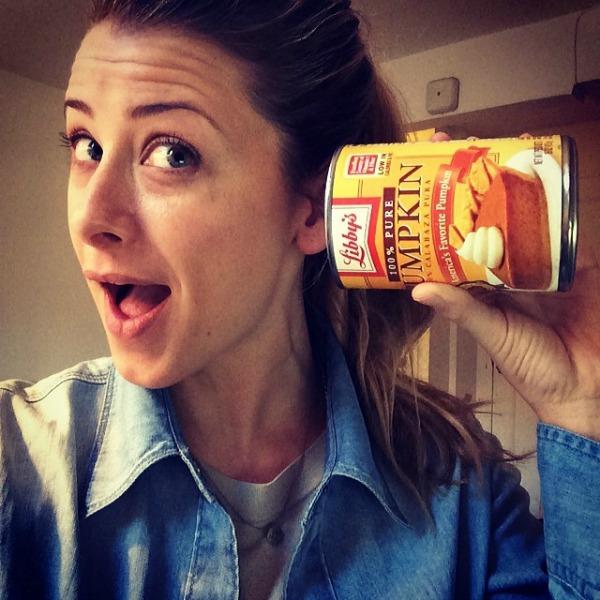 OK!: I get really stressed out as a hostess. Do you have any tricks for how to relax, since you clearly enjoy doing it?
LB: I would say, you have to figure out the type of party that you want to throw, first and foremost. If you are coming home from work, and you have 25 minutes to get your house ready, that's totally okay! Dim the lights, light some candles, put flowers up, and set up a bar station. But if you're hosting a bridal shower, definitely put in the time and effort needed so it comes together properly.
PHOTOS: See 15 athletes who snagged cameos in music videos.
OK!: Is there any way to make bridal and baby showers a little less painful?
LB: No games! My sister's bachelorette and bridal shower, we refused games. It was a civilized affair. No games, and add cocktails.
OK!: What is your favorite recent purchase?
LB: A black leather backpack that I got on sale at Urban Outfitters for maybe $18!
Did you watch Lo Bosworth on The Hills? Have you ever tried cooking with pumpkin? Which dish do you want to try first? Tell us in the comments below or tweet us @OKMagazine.