NEWS
London Dazzles in Opening Ceremonies for the 2012 Olympic Summer Games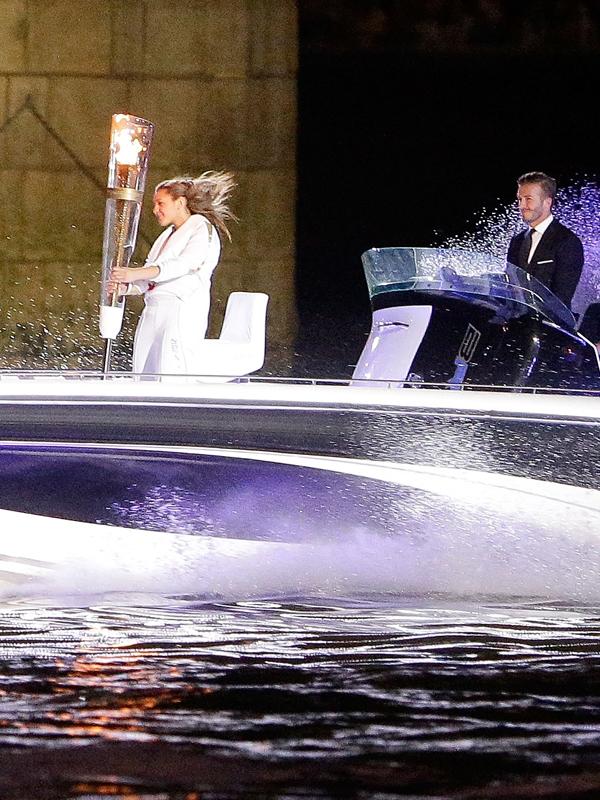 The 2012 Opening Ceremonies have begun and the festivities started off with a bang! Director Danny Boyle's spectacular extravaganza had superstar soccer hottie David Beckham delivering the Olympic Torch while driving a speedboat up the Thames River as fireworks went off around the Tower Bridge. Could the guy get any cooler? Seriously!
OK! NEWS: DAVID BECKHAM DIDN'T MAKE THE BRITISH OLYMPIC SOCCER TEAM
Article continues below advertisement
Daniel Craig takes on his James Bond persona in a short film that stars Queen Elizabeth II herself.
"Good evening, Mr. Bond," she said as the 007 agent rides up to Buckingham Palace in a black cab. He's given a secret mission and sent to the opening ceremonies.
The two are seen getting into a helicopter that fly them over the stadium where they jump out over the event. At that instance, real skydivers are seen, one dressed like the queen who wore a melon-colored gown, parachuting over the ceremony. After that, the 86-year-old, appeared on screen with her husband Price Phillip.
OK! NEWS: OLYMPIC SWIMMERS MICHAEL PHELPS & RYAN LOCHTE LIP SYNCH CARLY RAE JEPSEN'S "CALL ME MAYBE"
The following performance paid tribute to Britain's National Health Service and Harry Potter author J.K. Rowling started off the scene which featured Mary Poppins and of course the villain from her stories Voldemort.
And then an hour into the event, the athletes made their way into the stadium with Greece leading the way per tradition. After that, teams entered in by alphabetical order, and Great Britain went last, which is the position held for the host nation.
What did you think of the opening ceremonies in London?