NEWS
Loretta Devine Defends Chris Brown & Rihanna's Relationship: "I Don't Think They Ever Split Up!"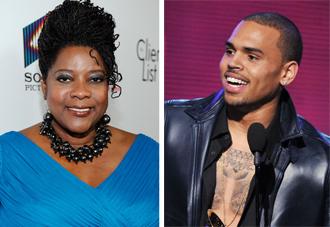 Article continues below advertisement
"I don't think they ever split up, so there!" Loretta confessed when Andy asked her if Chris should be forgiven for physically assaulting Rihanna three years ago.
"Really?" a shocked Andy shouted out. "I think that comes from some sort of knowledge that you have..."
"Didn't you ask me what I think? That's what I thought," Loretta defended herself. "Love is love, you know? And he wasn't the first one to hit somebody."
"Uh oh, I'm in trouble now!" she backtracked, before explaining what she meant.
"They acted like he was the first man to ever hit somebody or whatever, so I'm just saying, I don't think they ever split up."
Loretta then went on to explain how Chris was such a "youthful boy" when everything went down and he most likely didn't understand the severity of the situation.
OK! NEWS: RIHANNA ADMITS WORKING WITH CHRIS BROWN IS "INNOCENT" AND ALL FOR THE MUSIC
The Client List star never backed down on her opinion and even said that she thinks Rihanna is dating other guys, like Ashton Kutcher, just to blindside everybody.
"You know, she was dating Matt Kemp from the Dodgers for a little while," Loretta concluded, "but I think that was just to throw everybody off."
What do you think of Loretta's take on Chris and RiRi's romance?