NEWS
Rihanna Admits Working With Chris Brown is "Innocent" & All for the Music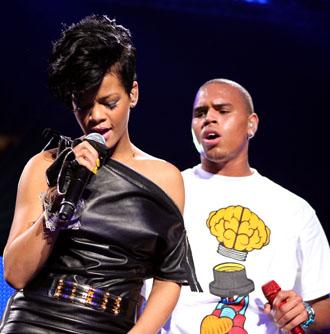 Despite what people may think, Rihanna and Chris Brown are not getting back together. RiRi herself spoke with Ryan Seacrest on his radio show this morning and explained that the only reason she and Chris teamed up for "Birthday Cake" and "Turn Up the Music" was to bring their fans together.
Ever since Chris was charged with a felony assault for the incident with Rihanna following the Grammys in 2009, the pair have not been in contact, until now. And Rihanna says it's all for the music.
Article continues below advertisement
OK! GALLERY: RIHANNA SPORTS STUDDED DENIM SHORTS AND THIGH-HIGH BOOTS IN LONDON
"The first song that came about was 'Birthday Cake' ... we ended up recording the two songs at the same time and executing them together," she explained to Ryan earlier this morning. "But I reached out to him about doing 'Birthday Cake' because that's the only person that, really, it made sense to do the record."
"Just as a musician, despite everything else, that was going to be the person," Rihanna added, referring to their rocky relationship. "You know, I thought about rappers, and I've done that so many times, and the hottest R&B artist out right now is Chris Brown. So I wanted him on the track and then in turn he was like, 'Why don't you do the remix to my track?' and it was a trade-off."
And just to settle the rumors, Chris is dating model Karrueche Tran, who has made slight jabs at Rihanna since the reports of their rekindled romance have surfaced. But despite all that, RiRi and Chris are making music, strictly in the studio.
OK! NEWS: RIHANNA HATES BEING SINGLE: "IT'S SO OVERRATED AND IT SUCKS!"
"We did two records — one for my fans, one for his fans — and that way our fans can come together," Rihanna said. "There shouldn't be a divide, you know? It's music and it's innocent."