NEWS
Love It or Hate It? Watch This Unbelievable 'American Idol' Performance and Decide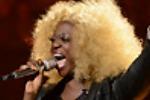 Zoanette Johnson got a standing ovation and major praise from the judges. Oh, and a spot as one of the final ten girls at last night's American Idol sudden death round.
She managed to wow everyone with what's become the the norm for her—another completely unexpected performance! Her song? "Circle of Life" from The Lion King.
Watch: Taylor Swift Teams with Another "Singer"
Nicki Minaj was especially thrilled with Zoanette. "I love you because that song was such a smart choice, because it matches where you are and where you're about to be and where you're from," Nicki gushed. "And it makes so much sense! And I'm proud that this place right here gives people like you and me that came from absolutely nothing, from a country that we didn't probably ever think we would make it out alive, it gives us a shot. Thank you. Thank you!"
Article continues below advertisement