NEWS
Love the Lakers and Lamar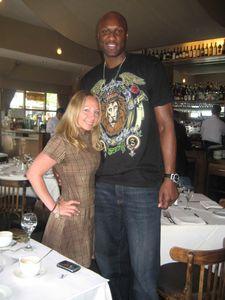 I went on a first date a few nights ago and was told "I'm on a date with Sarah Jessica Parker." Not exactly, but if I was to be compared to SPJ's Carrie, while her columns were a love affair with NYC, this fourth generation New Yorker is falling for the other coast.
One of my favorite traits of my new city are the LA Lakers. The other day I had the privilege of having coffee (he had a cappaccino) with the team's power forward Lamar Odom – who won MVP the last game I attended when they won their playoff game against Utah.
Article continues below advertisement
Lamar runs circles around his competitors on the court and keeps his life at almost as frenetic a pace off the court. Although he says he sometimes has to get mean during game-time, off the court he adores his fans as much as they love him, tries to be a 'normal guy,' owns a clothing line called Rich Soil, founded a philanthropic organization called Cathy's Kids (named after his mother) loves fashion, shopping (for himself and the women in his life, including his 10-year-old daughter) and definitely knows how to have a good time.
I promised to write a bit about him for each series they stayed in the post-season, which I've estimated as all the way to the end, so enjoy Part 1 of my interview with Lamar, talking about basketball and people the 6'10" forward looks up to. Tune back soon to read about Lamar talking about his extra curricular activities and his ideal woman (he's single!)
You're in the playoffs now, what's difference in energy between regular season and the playoffs?
Article continues below advertisement
After we lost the finals last year people in LA looked at the regular season like it was a warm up. Now people are excited and they expect us to win - every game we play.
Do you get nervous?
No.
Do you have any pre-game rituals?
I'm too spontaneous to have rituals.
How do you de-stress?
I sing a prayer, and some other stuff that we can't talk about. I'm playing. I'm a jokester. I take a shower before the game sometimes. I pray for my team, the other team. I have been playing basketball since I was nine in New York and I used to be real nervous when I first started playing. When I was nine I was playing in tournaments with kids 14 and under and I used to get nervous. By the time I was 12 or 13, it became routine.
What team did you want to be on when you were young?
I wanted to be on the Nicks, I'm from New York.
You started in LA on The Clippers, what's the difference between the Clippers and Lakers?
Without trying to be rude, I guess tradition. The Lakers have a winning tradition. Lakers are looked upon as entertainers and if you think about who comes to our games, people like Jack (Nicholson) or Denzel (Washington), they view us in a totally different way. I like the winning tradition and history.
Article continues below advertisement
Growing up, did you want to be anything else?
No. I used to get in trouble at school because I remember the teacher would go around and tell us to be a lawyer, doctor or dentist because the odds of getting into the NBA were so small. I always stuck with it. I remember sometimes getting assignments and the teacher would be walking around the room and I wouldn't even be doing my assignment, just sitting there signing my name in the book - Lamar, Lamar, Lamar. I could see it when I was 12 years old. I had my mind made up.
You recently drove all the way to the OC for Virgin America's OC launch party because you said you wanted to meet Richard Branson. What is it you admire about him?
It's not about the money, its just amazing to be an entrepreneur and monopolize life period, right? He had Virgin Records, Virgin Airlines, Virgin Mobile, his own island.
Who are some other people you look up to?
Family. My grandmother went back to school when she was fifty to finish college.
Article continues below advertisement
And in entertainment?
In the entertainment industry, people like Puff Daddy and Jay Z. I love Puff Daddy because he brought elegance to the hip-hop world. Hip-hop always seemed so ruff around the edges and people wouldn't embrace it. He smoothed it all out with charisma and good taste. I look up to him. I like everything about him.
Why was he booed when he went to the Laker game?
East coast and west coast stuff.
How often do you work out per day?
Twice a day sometimes. Game days, twice. I have my own trainer and I'm lucky because I have a fast metabolism ad I'm naturally lean. I have a sugar fetish.
What's a typical day's menu for you?
I eat breakfast. Oatmeal, maybe an omelet with egg whites, spinach, chicken. Lobster linguini at The Ivy is incredible for lunch. For dinner I try not to eat that much red meat so I go with chicken or fish, sometimes pasta and then a lot of veggies and then candy.
Candy seems like a food group for you, what's your favorite candy?
Hershey's white chocolate cookies and cream. I have four on my nighstand. I crack it one at 3am. I love Starburst and jellybeans too.
Go Lake Show ;) xo