NEWS
Lynne Curtin Squeezed Out of 'Real Housewives of Orange County'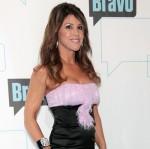 "Rumor has it that I will not be returning for 'season 6,'" Lynne Curtin from The Real Housewives of Orange County announced. "That rumor is true!"
OK! GALLERY: HOUSEWIVES ABOUND AT BRAVO UPFRONT PARTY
"I am broken hearted!," Lynne wrote on her Facebook (via E! News). "I was so let down the way this came about! We were the last to know! I guess Bravo has to do what they have to do! I thought we had a great relationship! I guess I was wrong! Its funny how fast offers came to us from other places! Thats how we found out we were not returning! Funny how life can be!"
Article continues below advertisement
Lynne joined the Orange County Housewives cast in season four and will now reportedly be replaced by Peggy Tanous, a friend of cast member Alexis Bellino.
OK! GALLERY: REAL HOUSEWIVES OF NYC LOOK LOVELY AT LAUNCH PARTY
"Further rumor has it we will be back somewhere else on our own show!" Lynne added. "Hmmmm! I would like our new show to be totally honest! No retakes or do overs. You will see it exactly the way it really happens! Someone thinks a lot of people will tune in! That makes me feel better about things! Its important to keep a positive vibe in life no matter what is going on!"
Bravo hasn't commented on Lynne leaving the show just yet, but Lynne is optimistic about her future.
"'Watch what happens,'" she warned."Life is so unpredictable! Enjoy!"
Season six of The Real Housewives of Orange County is expected to air January 2011.