NEWS
Housewives Abound at Bravo Upfront Party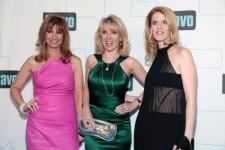 "Bravolebrities'" braved the blue carpet last night in the name of the network they love and work for! Housewives from New York, Orange County, Atlanta and New Jersey represented their territories in full force at Bravo's Upfront party in NYC— some happy to pose together, while rifts remained between others.
NYC Housewives arrived in three groups, with Jill Zarin, Ramona Singer and Alex McCord taking the carpet first.
Article continues below advertisement
OK! GALLERY: REAL HOUSEWIVES OF NYC LOOK LOVELY AT LAUNCH PARTY
Countess LuAnn de Lesseps and Kelly Killoren Bensimon hit the carpet together, both wearing white dresses.
Kelly said the joke of the night between her and fellow NYC housewives was hooking her up with Patti Stanger, The Millionaire Matchmaker.
What is the Playboy cover model looking for in a man?
Article continues below advertisement
"I want to be a Robin to a Batman," Kelly told reporters. "I want to look up to someone in awe. And that's not neccessarily an age thing. That's just a level of sophisticiation. I want somebody who can go to the Met with me and look at art, and I want someone who can go get five beers with me and eat chicken wings. I want a man!"
LuAnn quipped she was scared by the idea of "chicken wings and beer."
The countess is currently dating French wine distributor Jacques Azoulay.
WHAT WOULD THE COUNTESS DO?: WHEN TO PLAY DRESS UP; MEGAN FOX TELLS TOO MUCH
When Kelly was asked how she thinks Bethenny will be as a mom, the mother of two replied curtly, "I can't really speak to that. I'm sorry."
Is more tension abrewin' between the two housewives?
In matchmaking land, Patti Stanger said she would love to hook up — Jake Gyllenhaal and Kate Hudson!
"I want to make one completed Jew," she said. "They are both half and half."
Article continues below advertisement
OK! NEWS: EXPERTS ANALYZE JENNIFER ANISTON'S LOVE LIFE
Fashion PR Powerhouse Kelly Cutrone told reporters she wants to stick to planning the events, and "F--cking" hates walking the carpet.
As far as her former employer Whitney Port, Kelly still keeps in touch.
"I talked to her today, she's showing in Miami tonight," she said. "She's pretty and she's young and she's smart and she's trying to do her best and trying to maximize the moment. I'm all for a girl who is trying to make a buck in this town."
Real Housewives of New Jersey Caroline Manzo, Dina Manzo, Jacqueline Laurita and Teresa Giudice stayed close to one another at the event, while the show's coined trouble-maker Danielle Staub attended the event herself.
Danielle would not confirm if she will be returning to the show, but did denounce the other housewives as liers, trying to bring the strongest of the bunch (being herself) down.
Article continues below advertisement
Which Real Housewife cast is the most scandalous?
"I would have to say we are," Dina proclaimed proudly.
The only housewives complete group of housewives to walk the carpet together were the Atlanta ladies. NeNe Leakes, Sheree Whitfield, Lisa Wu Hartwell, Kandi Burruss and Kim Zolciak stood by each other, proud to represent their city as a team.
Alexis Bellino, Lynne Curtin and Gretchen Rossi represented the Orange County ladies, and said they are not phased by the recent announcement that a new set of housewives will be joining Bravo — Beverly Hills!
OK! EXCLUSIVE: GRETCHEN ROSSI SPEAKS OUT ON REAL HOUSEWIFE TAMARA BARNEY'S DIVORCE
They did hear the Beverly Hills ladies all have private jets!
What's the difference between O.C. and NYC housewives?
"Oh my goodness, the square footage of our homes," newest O.C. housewife Alexis told reporters. "It's not a negative thing, because I love being in New York, but you guys really have to be close here. Everybody has to be close. The restaurants are smaller. Everything is smaller."