NEWS
'Mad Men' Star Jon Hamm on 'Today': Kim Kardashian "Idiot" Comment Was "Accurate"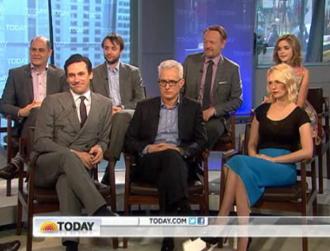 After a 17-month hiatus, Mad Men will finally be returning to AMC with the premiere of Season Five this Sunday. Members of the cast including Jon Hamm, January Jones and John Slattery stopped by the Today show this morning to share their excitement about the show's return.
OK! GALLERY: MAD MEN STARS CELEBRATE SEASON FIVE IN STYLE AT HOLLYWOOD PREMIERE
John explained to Matt Lauer on Today that the hiatus was "unfortunately long," but January added that it "gave people a chance to catch up."
Article continues below advertisement
After the cast attempted to explain why they think so many people love the show, Matt asked Jon about his recent comments regarding the rise of reality stars.
In an interview with Elle UK, Jon, 40, said, "Whether it's Paris Hilton or Kim Kardashian or whoever, stupidity is certainly celebrated. Being a f***ing idiot is a valuable commodity in this culture because you're rewarded significantly."
Kim responded to Jon's comments saying, "Calling someone who runs their own businesses, is a part of a successful TV show, produces, writes, designs, and creates 'stupid,' is in my opinion careless."
Well, this morning, Jon stood by what he said and explained, "I don't think they were careless. I think they were accurate. It's a part of our culture that I certainly don't identify with and I don't really understand the appeal of it other than in a sort of car crash sensability. It's not something that I partake in or enjoy, but it is what it is and here we are."
OK! GALLERY: JON HAMM & JANUARY JONES ATTEND THE PALEYFEST 2012 HONORING OF MAD MEN