NEWS
Madonna and Guy Ritchie on the Outs?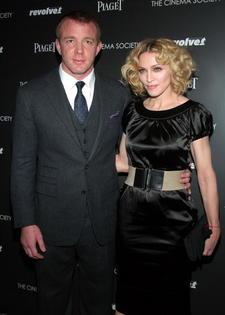 At her Feb. 6 Raising Malawi fundraiser, Madonna had a new date on hand -- her 11-year-old daughter, Lourdes. When her hubby of seven years, Guy Ritchie was nowhere to be seen, tabloid Us Weekly decided it would be more interesting to "report" a marital rift between the 49-year-old icon and Guy than the focus on the "boring" truth -- that Madge was raising millions for children orphaned by HIV and AIDS.
Article continues below advertisement
Under the headline "Madonna & Guy's Bitter Fight," the angry rag turned a cute Mommy-and-me day into exlamatio-point-inducing drama. Fight! Rift! Breakup!
BS.
When OK! asked a real pal of the singer to comment, we were met with disappointment.
"Absolutely not — they couldn't be happier," says the friend, who has a few choice words to say about Us Weekly. "The only question here is why that pitiful little publication would target Madonna when she's doing something so obviously charitable. That rag needs to get its facts straight."
Madonna's rep called the fabrication "just ridiculous" and added that "everything's fine with the Richies."