NEWS
Madonna & Ellen DeGeneres Are Distant Relatives!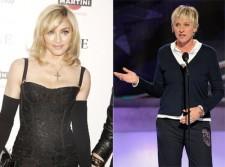 Could the Queen of Pop and America's favorite funny lady be related? Looks like talent runs in the family. Madonna and Ellen DeGeneres are 11th cousins, according to genealogy researchers at Ancestry.com.
Family history experts at Ancestry.com uncovered that the two entertainment powerhouses are related through a common 10th great-grandfather – a Frenchman named Martin Aucoin.
Article continues below advertisement
In the early 17th Century, Aucoin's daughters Jeanne and Michele moved from their home in France to settle in Nova Scotia, where both Madonna and Ellen's families stayed for several generations to follow.
Ellen's family left Canada in the late 18th Century when her 5th great-grandfather Joseph Martin proceeded to move to Louisiana.
It wasn't until the late 1870s that Madonna's 2nd great-grandmother Emilie Daniel swapped living in Quebec for Michigan, where the icon calls home.
"It's not every day you discover two celebrity icons are related, but it's their similarities that make the connection so extraordinary," said Anastasia Tyler, a genealogist at Ancestry.com. "They were born the same year, have both written books and been on tour, are known for their impressive dance moves – and with Ellen's latest gig on American Idol – are both legendary figures on the music scene."
Article continues below advertisement
The new-found family connection between Madonna and Ellen is just one of many familial connections uncovered by Ancestry.com.
IDOL RECAP: ELLEN JUDGES HER FIRST LIVE SHOW
In 2009, the family history Web site connected financier Warren Buffett to President Obama and also revealed that Emma Watson, well known for her role as Hermione in the Harry Potter films, is related to a 16th-century woman accused of witchcraft.
"Fun stories and amazing surprises like this can be found in everyone's family tree," said Tyler. "You never know what adventures, heroes – even superstars – you might find until you dig into your family's roots."
OK! VIDEO: PAMELA ANDERSON GETS A STICKY PRESENT FROM ELLEN DEGENERES
Ancestry.com is also a partner with NBC on the new, hit television series Who Do You Think You Are? and provided important family history research for the show, including tracing the roots of the seven celebrities featured.