NEWS
Idol Recap: Ellen Judges Her First Live Show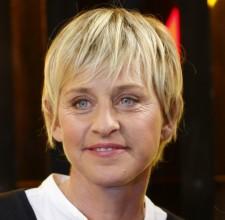 Ellen DeGeneres sat at the opposite end of the judges' table from Simon Cowell last night, as she judged the Top 12 girls competing for the public vote on the first live American Idol of the season.
Ellen and Simon sat on either side of the table with Randy Jackson and Kara DioGuardi in the middle, and the talk show host was quick to make light of their seating arrangements, reports Access Hollywood.
Article continues below advertisement
OK!'S AMERICAN IDOL LIVE BLOG: THE TOP 12 GIRLS
"We had a little problem and I felt like it's safer over here," Ellen told host Ryan Seacrest of her seat next to Randy. "The problem is, Simon wants me and he's got a thing for me and I get it Simon. I get it, and it's not going to happen."
Despite her jokes about Simon, she and the brusque music mogul agreed on many of the performances including the white-haired Lilly Scott.
OK! EXCLUSIVE: KRIS ALLEN TALKS ABOUT HIS "SHOCKING" HAITI EXPERIENCE
Here's a recap of the hopefuls' performances:
Paige Miles, 24, from Cypress, Texas, sang "All Right Now" by '70's rockers, Free, to open the show. "I think out of all the girls, you have the best voice. I genuinely do think that," said Simon.
OK! NEWS: SIMON COWELL ON HIS SUCCESSOR, PAULA AND THE TRUTH ABOUT ELLEN
"Having said that, I wouldn't have chosen that song, because it is a wedding singer type of song," he said. "I think you're gonna be fine, but you've gotta be really careful in your song selection."
Article continues below advertisement
Ashley Rodriguez, 22, from Chelsea, Mass., belted out Leona Lewis' pop ballad "Happy". Ellen thought she was fine, Simon called it "clumsy."
OK! NEWS: DRAMA ALERT, AMERICAN IDOL'S TOP 24 SWITCHEROO
Janell Wheeler, 24, from Orlando, Fla., went '80s with Heart's "What About Love?" making Kara describe it as "way too big" for the pretty blonde.
Lilly Scott, 20, Littleton, Colo., sang The Beatles' classic "Fixing A Hole," which impressed Simon. "You're definitely the best we've had so far," he said. He added, however, he wasn't "feeling much star power" from the singer.
OK! NEWS: KARA KIOGUARDI DISMISSES HOWARD STERN TALK AS "A RUMOR"
Kaetlyn Epperly, 19, from West Des Moines, IA, also opted for a Beatles number – "Oh Darling", intrigued Simon. "There's something about you," he said. "You're kind of quirky, interesting… But you're gonna need an awful lot of work."
Haeley Vaughn, 16, from Fort Collins, Colo., performed a rendition of "I Wanna Hold Your Hand," that missed its mark. "It was verging on terrible," Simon said. "You were like a wind-up doll that never stopped smiling through the song. It was just, for me, a complete and utter mess."
Article continues below advertisement
OK! NEWS: RANDY JACKSON TALKS AMERICAN IDOL
Lacey Brown, 24, from Amarillo, Texas, the contender who missed out on Idol's Season 8 by one place last year, covered Stevie Nicks classic "Landslide." "I thought that was terrible," Randy commented. "I thought that was pitchy all over the place."
Michelle Delamor, 22, from Miami, Fla., wowed Ellen with her version of Alicia Keys' "Fallin'". "That was fantastic!" Ellen said. "I feel like the only thing I would say for you, and this is a compliment, is that was safe."
OK! NEWS: ELLEN DEGENERES VS SIMON COWELL ON AMERICAN IDOL
Didi Benami, 23, formerly of Tennessee, now of Hollywood, Calif., went too low key with "The Way I Am" by Ingrid Michaelson". "What I'm missing here is a spark," Simon said.
Siobhan Magnus, 19, from Barnstable, Mass., interpreted Chris Isaak's "Wicked Game". "I loved it," Ellen said. "For a minute, I forgot we were in a singing competition and I was just being entertained."
OK! NEWS: ADAM LAMBERT WON'T BE MEAN ON RED CARPET
Crystal Bowersox, 24, from Elliston, Ohio, tried out Alanis Morissette's "Hand In My Pocket," prompting the judges to suggest she choose less predictable songs.
Finally, Katie Stevens, 17, from Middlebury, Conn., was told her look was "pageanty" by Simon after her version of Michael Bublé's "Feeling Good". "It was like your mum and dad had dressed you and given you the song," Simon said.