NEWS
Madonna Is a "Female Force" in Comic Book Form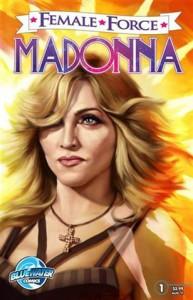 Article continues below advertisement
OK! GALLERY: MADONNA HEADS OUT WITH HER LATEST BOYTOY ACCESSORY
"Our goal is to show the little-known events and influences that resulted in Madonna becoming the phenomenon she remains to this day, more than a quarter-century after she burst upon the scene," Jason Schultz, Bluewater's executive vice president, explained. "A visual medium provides perspective that is not only accessible but more relatable to the average person without losing any of the information involved."
The comic book bio was written by CW Cooke and drawn by Michael Johnson.
"Most pop stars owe everything to this woman," Cooke said. "It's amazing all of the things that she's done in her lifetime, and I have a feeling that this is still only the beginning."
Female Force: Madonna will be released in August 2011.