NEWS
Madonna & Guy to Divorce Friday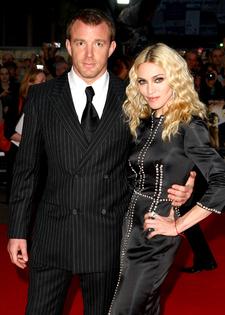 While it seems like only yesterday that Madonna and husband Guy Ritchie announced their split to the public amidst rumors of the pop star's romance with Alex Rodriguez, the couple's marriage is already set to be officially dissolved tomorrow in a London High Court, according to Reuters.
Listed under Ciccone M L v Ritchie G S, the case will be heard by a judge Friday and is expected to result in a "quickie" divorce. Most celebrities decide not to be present during the hearing.
Article continues below advertisement
The couple have also reportedly reached a settlement. According to London's Evening Standard, Madonna will keep the bulk of her $500 million fortune, although Ritchie is by law, entitled to a share of it.
The singer will also share custody of her son with Ritchie, Rocco, 8, as well as David, 3, whom she adopted from Malawi. The boys will split their time between London and New York. Madonna's daughter, Lourdes, with former trainer Carlos Leon, will live with the singer.
CLICK HERE for OK!'s Madonna gallery!
The UK Times cites a source who says, "He Guy Ritchie didn't want the whole thing dragging on in the public gaze for months and months and, in any case, his priority was the children's future."
"We're not going to comment on anything at the moment," said Barbara Charone, Madonna's London publicist.