NEWS
Maks: "Mel B Is the Best Dancer on DWTS"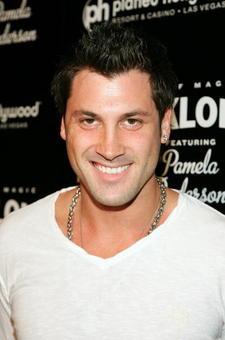 Based on their sizzling performances the last few weeks, you'd
think Melanie Brown and Maksim Chmerkovskiy have been rehearsing their butts
off to perfect these dances, but it's actually the opposite, Maks tells OK!.
"Her practice schedule is 10 a.m. to 7 p.m. with the Spice Girls — no breaks — and
then she's practicing with me from 7 to probably 7:45!" Maks teases. "It is
very difficult, but we're doing it. We don't practice nearly as much as the
Article continues below advertisement
other celebrities and maybe we should!"
Still, the couple is getting some of the highest scores of
the competition, including two perfect 30s the last two weeks and a total score
of 56 Monday night for a second-place showing. Maks credits Mel's natural
ability for separating herself from the rest of the pack.
"Mel is by far the best dancer in this competition, no
question," he says. "HelioCastroneves can try and come close because he's a
guy and he can just stand there and have Julianne Hough do her thing around
him. I'm not hating! I think he's developing and improving and everything else
but in the end, he isn't Mel."
Of course not — Helio doesn't stress Maks out every week
like Mel, 32, does. The 27-year-old pro says Mel breaks down once a week to the
point where he must talk her out of it and motivate her. "I am like her
therapist!"
Article continues below advertisement
In the end, though, the feisty duo always manages to pull off
dazzling performances and Maks believes it's a testament to their disposition,
not their confidence.
"We're just happy. Confidence is for people who are nervous.
We're not nervous so we don't need to be confident — we just do it," he says. "We
don't compete, we just perform. Whatever the audience and the fans think, that's
great. If we come back, great, if not, that's fine too."