NEWS
Maksim Chmerkovskiy Compares Production of 'Dancing With the Stars' to 'American Idol'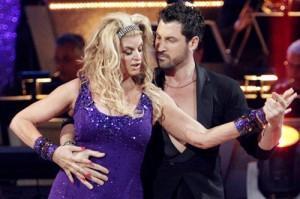 The "bad boy of ballroom" does not keep his feelings to himself! Dancing with the Stars pro Maksim Chmerkovskiy told reporters last night exactly what he thought of the production process on the show.
OK! EXCLUSIVE GALLERY: BEHIND THE SCENES AT DANCING WITH THE STARS
"Production is the hardest thing. Seriously, it's the fact that you have 10 billion interviews and 40,000 pickup lines and packages in the music and has to start here and finished there," Maksim explained. "I feel like this season has been, personally, the hardest season I've ever had because everything has become 'let's be American Idol,' and we are and that's amazing, but it's a form of entertainment and I feel that sometimes how producers forget that they are not dancers."
Article continues below advertisement
"Throw me in and tell me I have to do 10 numbers by tomorrow and I have to be all different and all this way and I will do it, no problem," he added. "But these people are trying to focus on going forward with their left and someone is pulling them away to do a interview, or saying 'stand here, say it again because there was no passion,' what f**king passion, I am forgetting my steps. So that's the hardest part."
OK! NEWS: KYM JOHNSON'S DWTS BLOG — I FEEL SO BLESSED
While talking about last night's Cha-Cha Challenge, Maks thought that the challenge was a good idea.
"I think it's a good idea to give the opportunity for better dancers that may not have as big a fan base to get a chance into the finals. I wish we had that last season with Brandy, but…. It's all good. I compared Kirstie Alley and feel we actually held our own. It was a great cha-cha and it felt good."
Article continues below advertisement
But he did admit it's hard when you have three judges with three different opinions.
"Unless you have three ballroom judges you don't really have a fair comparison. I mean, it's a matter of preference. I think that Carrie-Ann Inaba, no matter what, would prefer somebody like Chelsea Kane over us because we are very technical and Chelsea is very flashy, so like you said, it's a matter of preference. I don't mind the outcome at all."
Reporting by Amanda Champagne