NEWS
Kym Johnson's 'DWTS' Diary: I Feel So Blessed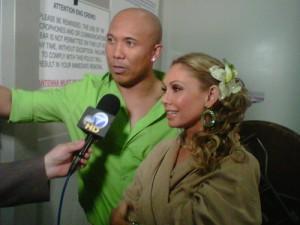 Hi, everyone, and welcome to my OK! blog! Every week, I'll be sharing with you all the behind the scenes stories as I train NFL wide receiver Hines Ward for this season's Dancing With the Stars, trying to make the Pittsburgh Steelers pro look as cool in the ballroom as he does on the football field for season 12!
After what happened last week, I'm actually feeling really good right now. Everyone thinks I'm Wonder Woman for surviving that fall. I don't want to see it, I never want to see it. I was in pain. I took a terrible fall, and I'm incredibly lucky, I feel very blessed, VERY blessed — someone was looking out for me that day.
Article continues below advertisement
OK! EXCLUSIVE GALLERY: BEHIND THE SCENES AT DANCING WITH THE STARS WEEK 9
I feel terrible for Hines because I was the one who wanted to try this thing, and it was one of those unfortunate accidents that could've gone horribly wrong and thank God it didn't. I felt so bad for Hines, putting him in that position. He felt sick when he saw the footage. We were told not to watch the footage, because it was quite full-on — I don't ever want to see it myself because i feel like my neck would hurt even more if I watched it — but Hines unfortunately caught the second part of it, he didn't meant to but he ended up seeing it before we danced. I think that's why he got so emotional.
OK! VIDEO: WATCH CHELSEA KANE BEAT HINES WARD IN CHA-CHALLENGE ON DANCING WITH THE STARS
He honestly, he is the one who got us those marks last night. He really danced his heart out. I was so proud. We worked really hard on Wednesday and all day Thursday and Thursday night in the stdio, so we actually had all of the three dances done, which was just very lucky. This happened on Friday morning, first thing. Hines, thank goodness, had the choreography down, so then Cheryl Burke, she's a good friend of mine, thankfully came in and continued working with Hines to clean things up while I was in hospital and getting better. We ended up being okay, and I am just so lucky that Hines is the person he is, he's such a beautiful person. So to get those scores? That was great. It was really really really good.
Article continues below advertisement
OK! VIDEO: WATCH HINES WARD & KYM JOHNSON'S PERFECT SCORE PERFORMANCE ON DANCING WITH THE STARS
I just got out of the neck brace yesterday just before the show. I wasn't cleared to dance until the day of, until Monday morning because the doctors wanted to see me again to make sure i had more range of movement. They didn't want me dancing on it if it was still how it was from the first results that they got back. I really took time to rest, wore my neck brace, and I ended up with more movement so they gave me the all-clear to take the brace off and dance, obviously. I modified the choreography a lot but I didn't end up needing it a lot with Hines' great dancing.
OK! NEWS: DANCING WITH THE STARS SIZZLES WITH THREE PERFECT SCORES
The night before we didn't know what was going to happen. Cheryl was learning all the choreography in case she had to step in. He would've danced with Cheryl if I couldn't dance. When they gave us the all-clear we spoke about it. I wasn't sure, I wanted to give Hines the best chance he could have to make the final. We spoke about it and he said, "You know what, we're a team, if they've cleared you, do your best and I'll pull you through." He's such an incredible man.
Article continues below advertisement
OK! NEWS: KYM JOHNSON INJURED DURING DANCING WITH THE STARS REHERASAL
We got through it together and I honestly, it really put things into perspective for me. The doctors even said it themsleves, they said, "You're a very, very lucky girl." It's lucky that I took it a little bit lower on my back. I can't exactly remember what they said now, but if it had been a little bit higher, if I had fallen just a little bit different, the whole outcome could've been horrible. Basically I've sprained the spinal cord, that's what got squished. I miraculously didn't fracture or break anything, it's more in between the bones.
KYM JOHNSON'S DWTS DIARY: I'M SO NERVOUS ABOUT TONIGHT!
I feel so lucky. Just to be dancing — just to be walking! I went into shock when it happened. I couldn't feel my arms for about a minute, that's what was really scaring me. Then Hines was so great. The paramedics and the cast and Cedars Sinai — the paramedics were there in five minutes and they just really took care of me. Hines was with me every step of the way. He was with me in the hospital, he stayed there for every test result, he was with me throughout the whole experience. He took me back to the hospital on Monday to get more tests and he was with me waiting to see what the results would be. He's been with me the whole time. Even when he rehearsed, he came back to my house to see me. I was on my couch laid up with my pajamas on and he showed me what they'd worked on. We're a team, and he's just really taken care of me. I feel so lucky, I can't even begin to describe how lucky I feel.
Article continues below advertisement
OK! EXCLUSIVE: BEHIND THE SCENES AT DANCING WITH THE STARS WEEK 8
I think the competition got the better of me, it was the semifinals. I've been on 12 seasons including Australia, and I was wanting to try some different things, things that haven't been seen on the show before. I felt terrible, I blame myself for trying this. It's just one of those freaky things that happened. Thank goodness that I'm all okay now. Apart from the fall, I was just really proud of Hines with these two dances. I thought they ere deserving of really good scores even before I got hurt, so to get those marks... and Hines danced them incredibly. I'm so proud of him. We really don't care what happens now. After we finished that tango, the scores weren't anything he's concerned about. He was just so happy we were dancing together.
OK! EXCLUSIVE GALLERY: BEHIND THE SCENES AT DANCING WITH THE STARS BALLROOM GREATS NIGHT
Last night was a bit of a blur, to be honest with you. I don't want to watch the footage because I think it may mess with my head and I think I may be more tentative and scared. But don't get me wrong, I'm not going to try to attempt stupid crazy tricks, I'm going to rely on Hines' great dancing. If we get through, I'm on the mend, I'm feeling a lot better, so if we got through I've got such great ideas for our freestyle. Hines and I started this competition together, it'd be nice to end it together.
Article continues below advertisement
KYM JOHNSON'S DWTS DIARY: FINALLY SCORING A 10!
I think hopefully the audience will really love what we do. I feel like I have a great idea for this week, I hope we get a chance to do it. In rehearsals, I'll be dancing a lot and on my feet, so I'll probably wear my brace. I'll definitely get a lot of rest this week as well — I've had a bit of a shock to my system and I'm not going to overdo things and go to crazy. At the end of the day, it's about having fun and enjoying this competition. It's not worth breaking your neck for... literally! The mirrorball is not worth that!
Fingers crossed and thank you all for your support!
Kym