NEWS
Malan's Musings: Fashion Friday Is Here!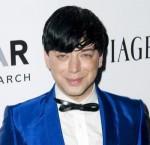 Every week at okmagazine.com, accomplished designer Malan Breton takes a look back at the week in fashion — the Dos, the Don'ts and everything in between! Join Malan and OK! for Fashion Fridays!
OK! GALLERY: ASHTON KUCHER SUITS UP DOWN UNDER
Once upon a time, in a page from the book of fashion, there lived a tribe called moon-glow, in which all the tribesmen wore shiny, silver suits, all inspired by the great and powerful moon. Men of all ages, shapes and sizes would come out at night in their moon-glow colors et voilà!
Article continues below advertisement
OK! GALLERY: STEVE CARELL — "THE OFFICE WILL CONTINUE"
Ashton Kutcher looking genius in Australia, Steve Carell looking incredibly stylish in NYC and Paul Dano looking radiant at the premiere of The Extra Man. Moon-glow is the new black, darlings, and it shines beautifully like the chrome on a 1953 Mercedes 170Sb.
OK! GALLERY: THE EXTRA MAN PREMIERE IS EXTRA SPECIAL
Speaking of The Extra Man: Katie Holmes?!?! My beautiful darling, what school marm did you borrow this from? Perhaps it was laundry day at the Holmes-Cruise house. But, darlings, those shoes; a very unhappy leprechaun is missing his finest this week.
Article continues below advertisement
Darling friends Natasha Bedingfield and Paula Abdul presented us with sheer, utter glamour.
Then there was one, oddly shaped, pumpkin-colored dress, which made a very beautiful lady look like she was wearing a colander; Megan Fox, when you are in NYC please feel welcome at Malan Breton Fifth Avenue — you are far too beautiful for whatever it is you are wearing.
Darlings, again... the words of the week are Kellan Lutz.
Wait!!! Stop the presses!!!! What is in Joe Jonas' hand? Is it his Jeremy Scott Adidas? My favorite! Joe Jonas is now on my fashionable ones to watch list!!!
OK! GALLERY: HILARY DUFF DOLLED UP FOR HER DOCTOR
Darlings, wait, I have an appointment at my orthodontist. Let me get out my Malan Breton silk suit, a pair of Prada shoes, my Van Cleef & Arpel jewels and my Hermès Kelly bag (LOL)! Hilary Duff must have a HOT doctor!!! She looks absolutely red-carpet ready... gorgeous!!!!
Article continues below advertisement
OK! GALLERY: ALI FEDOTOWSKY SHOPS THEN BOWLS IN HOLLYWOOD!
I promised myself I'd never discuss reality TV stars in my column, but Ali Fedotowsky is... what's the phrase? Cute as a zipper? Button? Oh, well! One thing, darling: You are dressed better for a day of shopping than walking on the red carpet, but that's all right. It's amazing — when you lose a few pounds, you feel like you want the world to see your success. I know, I am on my way to losing a few excess pounds as well, and I feel amazing!!!
OK! GALLERY: JEN ANISTON DEBUTS HER NAMESAKE SCENT
Darlings, one last thing... new friend Jennifer Aniston just launched her eau de parfum at Harrods; does she not look gorgeous? If a scent will make you look this beautiful, I will take two!
Well, my darlings! Until we meet next Friday, have a glamorous week and try each day to feel a little more radiant, because luminous style makes everyone feel like a star!