NEWS
Ashton Kutcher Suits Up Down Under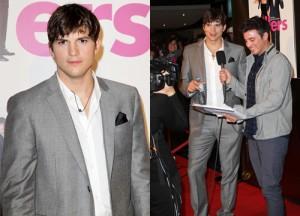 Ashton Kutcher was in Sydney yesterday for the Australian premiere of his movie, Killers, which stars Ashton and Katherine Heigl. He's been keeping busy while he's been in Australia; the star has been updating his over five million Twitter followers! He Tweeted a picture of himself posed with a koala and one just before (and just after) he went skydiving! He warned fans not to tell his wife, which is of course the beautiful Demi Moore.
Article continues below advertisement
OK! NEWS: DEMI & ASHTON CLEANSE TOGETHER
Demi and Ashton, who are usually there to support each other, were not together at this premiere because Demi had other obligations due to her filming schedule.
Luckily, the pair has an agreement not to go longer than two weeks without seeing each other. And even when they are apart, the couple keeps each other, and fans, updated on their lives via Twitter.