NEWS
Malan's Musings: Fashion Friday is Here!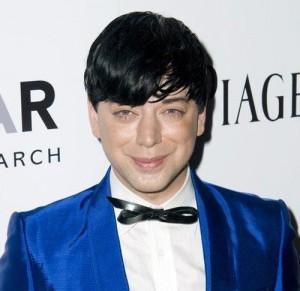 Every week at okmagazine.com, accomplished designer Malan Breton takes a look back at the week in fashion — the Do's, the Dont's and everything in between! Join Malan and OK! for Fashion Fridays!
Darlings it's Friday! This week was filled with glamour, beauty and unexpected style!
In Hollywood, Louis Vuitton and Rachel Zoe are the symbols of success and style. Zoe seen here in one of the chicest looks I have seen on the red carpet in ages. embodies a little 1930's ballerina of sorts, colliding with the new millenia.
Article continues below advertisement
Sadly the beautiful Kristen Bell left me wondering if she has a full length mirror at home. If so, Why, darling why?
OK! GALLERY: SANTA MONICA & HOLLYWOOD HOLD HANDS TO WELCOME LOUIS VUITTON
Serena Williams gives us playful and sultry, and the porcelain beauty Dita Von Teese brings us the most perfect homage to 1950's style icon Sophia Loren.
Speaking of iconic figures! Darlings you are going to be seeing a lot more curves on the NYFW catwalks this season — cleavage is in! I have a sense it has a lot to do with Kim Kardashian and her Marilyn Monroe meets hourglass gorgeousness.
OK! GALLERY: KIM KARDASHIAN PROMOTES NEW SCENT & BANGS
I think Drew Barrymore grows more beautiful with age. Her features, like a silent film goddess, and vibrant energy have always been the highlight of any event I have seen her at. Showing us flower child chic, she looks so happy and in love. Congratulations, to my chic couple of the week!
Article continues below advertisement
Jennifer Aniston is the perfect muse for modern American style, from a simple shift to a gorgeous shirt dress she emulates chic!
OK! GALLERY: JENNIFER ANISTON ACES HER APPEARANCE ON THE DAILY SHOW
Can someone tell me where Kelly Brook came from? This stunning beauty gives us classic Hollywood chic and the leg... darlings, always remember a little leg is so sexy, a little goes a long way!
Oh, darlings for the first time in the history of my column I am going to compare who wore it best!
Jessica Szohr in Marchessa or Jada Pinket Smith in the same dress at the Tony awards.
Jada is my choice though Jessica comes in a close second. So much beauty in Hollywood!
Rebecca Romijn, one of my favourite Hollywood beauties seen here in one of the hottest colours in fashion right now. The pleating is a little off but on Romijn anything looks stunning!