NEWS
Malan's Musings: Fashion Friday Is Here!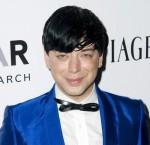 Every week at okmagazine.com, accomplished designer Malan Breton takes a look back at the week in fashion — the Do's, the Don'ts and everything in between! Join Malan and OK! for Fashion Fridays!
Mirror Mirror on the wall: It's awards season and who will be the most glamorous of all?
Perhaps that sentence should say "Wedgies, wedgies everywhere, where they end, do we care?" HA!
Dear Amy Adams: You are radiant, brilliantly talented and stunning! But this dress does not do you justice, it appears to have seating wrinkles from your drive over. Any more draping and Nate Berkus will be giving you an edit!
Article continues below advertisement
OK! GALLERY: THE KING'S SPEECH REIGNS SUPREME AT THE DIRECTOR'S GUILD OF AMERICA AWARDS
Does the wonderfully curvaceous Sofia Vergara ever not look gorgeous?!?! She is the modern day Marylin Monroe!
I simply adore this Pierre Cardin-inspired gown worn by Natalie Portman.This mother-to-be has pulled some of the finest couture to accentuate her baby lump.
All I can say is OMD!!! (Oh My Darlings!!!) Lea Michele has a new stylist and she looks absolutely GORGEOUS! Tina Fey gives new glamour to the word ROUGE!
Article continues below advertisement
Though the men were handsome, their simple black tuxedos reeked of last night's cater waiter. Okay guys, it really is simple add a splash of colour, et viola!
My favourite dress of the evening was January Jones in Carolina Herrera, STUNNING!!!!!
Well darlings, another awards ceremony down and nothing has really sparkled in my eyes, perhaps at the next venue. Until then I wish you Love and Glamour!!!!