NEWS
Malan's Musings: Fashion Friday is Here!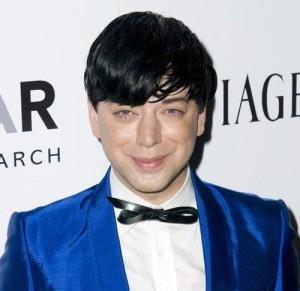 Every week at okmagazine.com, accomplished designer Malan Breton takes a look back at the week in fashion — the Do's, the Dont's and everything in between! Join Malan and OK! for Fashion Fridays! This week Malan brings you a special Emmys 2010 edition!
Once upon a time in the book of fashion, there was a genius! A man that chose to challenge fashions boundaries and fill the world with art, a cut and a fit that no other could ever dream.
Article continues below advertisement
His name, Alexander McQueen! The 2010 Emmys were complete, and thank you Anna for showing the beauty of a man that inspired a generation of designers, myself included.
From the show to the afterparty, Anna Paquin and her date Stephen Moyer are my couple of the night.
Then there was Claire... Danes that is! Darling you have grown up to become one of the most beautiful women in Hollywood and this gown by Armani Prive... Darling! I died when I saw this! Sheer Grace Kelly!
I love that Hollywood is revisiting glamour and darlings...
Some of my best dressed favourites of the night were Kelly Osbourne, Paula Abdul, and yes, ladies and gents, Lea Michele. This Oscar De La Renta gown, gave me new respect for this actress. BRAVA!!!!
OK! GALLERY: GLEEKS BEAM BRIGHT AT 2010 EMMYS
I love Julia Ormond, but darling the dress sadly resembles a high fashion diaper sans safety-pin.
One of my favourite moments of the night was Jewel in an ethereal gown center-stage with guitar in hand. She looked stunning and a voice that touches ones soul!
Article continues below advertisement
OK! GALLERY: STARS SHOW APPRECIATION ON STAGE AT 2010 EMMYS
Men in Black looked tailored and very polished, but guys! I give kudos to Ryan Murphy for looking outside the box in a blue Tom Ford. I quite like Tom Ford's use of color on men! Its nice to see someone enjoys colour in mens fashion as much as I do. Color is in gentlemen! No longer are the days of looking cater-waiter chic.
I adore Lauren Graham. Darling, you have gorgeous curves and a stunning face, I invite you to Malan Breton Fifth Ave, next time you are in town. I cannot speak ill of this dress but I will say, you are a supreme beauty. Show the world your beautiful plumage, darling!
The Audrey Hepburn award of the night goes to... it's a tie... Eva Longoria, that dress was chic, perfectly fitted and STUNNING!!!! Bravo to her stylist and her such a perfect pairing! Ariana Grande in a strapless Versace Atelier, Très Chic, Très Belle! Brava, ladies!
Article continues below advertisement
Well, darlings, the night began in gold and ended in blue.
OK! GALLERY: COUPLES GET COZY AT HBO AFTER PARTY
January Jones, who I adore as an actress,, went Avante Garde, yes back to school shopper's one stop in the paper aisle, a little food coloring, and do not forget the glitter glue, et viola! You too can look like a PINATA! OLE!
Well, my darlings! Until we meet next Friday, have a glamorous week and try each day to feel a little more radiant, because luminous style makes everyone feel like a star!
OK! GALLERY: TRUE BLOOD & MAD MEN OUT FOR BLOOD AT 2010 EMMYS!
Malan
Follow Malan on Twitter at twitter.com/malanbreton and on Facebook!