NEWS
Malan's Musings: Fashion Friday Is Here!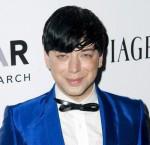 Every week at okmagazine.com, accomplished designer Malan Breton takes a look back at the week in fashion — the Do's, the Dont's and everything in between! Join Malan and OK! for Fashion Fridays!
MALAN'S MUSINGS: FASHION FRIDAY IS HERE!
"Ten minutes, were on in ten minutes!" exclaimed my stage manager as we finished dressing the looks with Rado watches and millions of dollars in jewelry by jeweler to the stars including: Donald Huber, a legion of supermodels like Irina Pantaeva, Amanda Fields, Ashley Shaw, Colleen Koltick, Russell Giardina and Housewife Alex McCord. Finishing with hair and makeup and viola into shoes, graphically designed United Nude worn by Hollywoods elite, that played off of the architectural elements of the clothes, the poodles set.
Article continues below advertisement
The 65 piece Chelsea Symphony made their entrance and the magic began. Like a 1950's movie musical there was even a dance element that included Brittany Franklin and New York City Ballet's Zachary Catazaro. This would be the fashion of stars for months and awards shows to come.
Denise Richards stunned in the front row with every majour editor and buyer in the fashion industry. For 18 minutes and 45 looks the international fashion world were serended and entertained by Fashion, My collection at New York fashion week. And darlings I was so honoured to receive a six minute long standing ovation, thank you!
Fashion week also brought out some of the greatest in style and glamor! It was the first season at Lincoln center and Tommy Hilfiger celebrated in grand style at the Metropolitan Opera house with fashionistas like Jennifer Lopez giving us Rock and Roll chic, Christina Hendricks in 30's inspired glamor. Kelly Osbourne in 40's meets 80's beauty. Style knows many generations in Rumer Willis' family. With a brilliant mother like Demi Moore how could she look anything but CHIC!
Article continues below advertisement
One of my favorite, fun, and flirty fashion designers Betsy Johnson gave us color in a rockabilly 1940's meets 1950's Sandra Dee chic.
MALAN'S MUSINGS: FASHION FRIDAY IS HERE!
Fashion week with over 200 plus shows came and went but OK! Magazine started off the week in style celebrating their fifth anniversary at Avenue in NYC, the same place I had my after party on Tuesday. It was packed with celebrities of reality TV Galore. Everyone from Jackie Warner, Housewives, and the adorable Jamie Hilfiger, looking so 50's meets 90's beautiful.
Well I am off for one final weekend in the Hamptons but until next week, I hope you find inspiration in these images from fashion week and have a Martini with me to celebrate the end of fashion week and the beginning of red carpet glamor, and who wore it best to come.
Love and Glamour,
Malan Breton
Follow Malan on Twitter at twitter.com/malanbreton and on Facebook!