NEWS
Malan's Musings: Fashion Friday Is Here!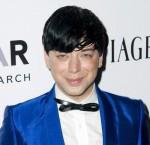 Every week at okmagazine.com, accomplished designer Malan Breton takes a look back at the week in fashion — the Do's, the Dont's and everything in between! Join Malan and OK! for Fashion Fridays!
Ageless, beautiful, washed, worn, tattered, torn, over-dyed, darlings, these are the adjectives used to describe the greatest invention in sportswear.
Denim, but one woman knows best how to wear it and it is Heidi Klum, seen here in a simple blazer and red espadrilles. Lady Samuels looks every bit the supermodel in a diamond brassiere or a distressed pair of denim shorties.
Article continues below advertisement
OK! GALLERY: HEIDI KLUM SPENDS A SUNNY SUNDAY SHOPPING WITH HER BROOD
Alas there is a right way and a wrong, I think I am going to start calling her Miley Serious instead of Cyrus because seriously darling, you are such a pretty girl to look like you paid 35 cents for her entire ensemble, including the weave. Please come see me, I would love to fashion you up a bit!
Kristen Stewart looks skater chic in a hoodie, Slim denim, and what looks like vans. Wait, why the sour puss? Never wear denim in anger or sorrow. It is meant to be playful and fun! HAHA!
OK! GALLERY: ROB & KRISTEN DINE & DASH IN HOLLYWOOD
Salma Hayek is giving us faux denim in a jersey stretch ensemble that gives her the appearance of OOOPS! One or three too many mixed elements! Darling, less is more, the turban, the waist cincher and the waist high boots equal about four separate key looks. I do love her Chanel Vamp finger polish! So gothic chic!
Article continues below advertisement
I have to say I love Katherine Heigl, but her dress looks like a $2 handbag gone wrong! The pageant satin,  the brooch, and OMG the north meets northwest hemline?!?!  The color is pretty. Josh Duhamel looks amazing in a simple black suit with slim tie. It's male classic reinvented.
OK! GALLERY: KATHERINE & JOSH LET LOOSE AT LIFE AS WE KNOW IT NYC PREMIERE
Oh darlings, another invention in denim, the evening cocktail dress, seen here on Sarah Burns taking daywear to evening in Americas favorite fabric.
Article continues below advertisement
One of my favorite men's style icons Justin Timberlake mixes denim with a great tie and great outer vest. Its very Ivy League chic!
OK! GALLERY: ACTORS SHOW OFF THEIR SOCIAL NETWORKING SKILLS IN BERLIN
Well, we end the week in sheer A-list glamor, at the premiere of Red in NYC, with the always beautiful Helen Mirren in a gorgeous crimson wrap, Samuel L. Jackson in his signature bobby cap with a nehru collar, which is the new silhouette for fall, blazer. Then we have Mary Louise Parker in modernist chic, with an emphasis on this seasons trend for lingerie. Gorgeous!