NEWS
Malan's Musings: Fashion Friday is Here!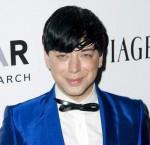 Every week at okmagazine.com, accomplished designer Malan Breton takes a look back at the week in fashion — the Do's, the Dont's and everything in between! Join Malan and OK! for Fashion Fridays!
"Darkness falls across the land/The midnight hour is close at hand/Creatures crawl in search..."
Darlings, the hallowed hour is soon upon us. What strangely glamorous creature will you emulate this Halloween? Snooki, Marilyn Monroe, a vampire, or even scarier yet... A Kardashian? Haha, only kidding!
Article continues below advertisement
OK! GALLERY: KIM KARDASHIAN CELEBRATES HER 30TH BIRTHDAY IN LAS VEGAS
The lovelies were out in Vegas to Celebrate Kim Kardashian's 30 birthday. I have to say Kim looks stunning. Darlings! I have looked forward to my 30th birthday every year for the last seven with great joy. Happy Birthday, Darling!
OK! GALLERY: JERSEY SHORE CAST FIST PUMPS THEIR WAY TO NYC
Have you noticed the Halloween costumes licensed for the Jersey Shore characters this year? Yes, darlings you too can emulate -- let's see is it BLT, TLC, PMS...? No, darlings I've got it — GTL! Haha! Well, NYC was the place for the fab seven to let down their hair and party. I adore The Situation, he is such a nice guy, seen über casual, he would look amazing in a Malan Breton Homme blazer. Call me!
Snooki has to be one of the most adorable ladies I have seen in animal print. Which Jersey Shore persona would you most like to be for Halloween? Let's see: I will take Ronnie Ortiz-Magaro's arms, DJ Pauly D's body, J-Woww's nose and Snooki's bright eyes, Josh Duhamel's face, what Josh Duhamel is not on Jersey Shore? Cameo, anyone? HA!
OK! GALLERY: MICHELLE WILLIAMS IS LACY LOVELY IN LONDON
"A kiss on the hand may be quite continental, but diamonds are... " Michelle Williams the next to emulate Hollywood's greatest icon, Marilyn Monroe, looks like a picnic place setting in her lovely lace dress. A word of advice darling — shoulders back, chin up, a tilt of the head to the left and pivot. darling! Channel some of the glamor goddess and turn that lacy place setting into the sultriest thing the red carpet has ever seen!!!
Article continues below advertisement
OK! GALLERY: SIENNA MILLER SHINES AT THE GRAND OPENING OF ESQUIRE HOUSE L.A.
I love Sienna Miller. She is sprite, gorgeous, playful and reeks of style! Darlings, if any of you would like to be a mummy for Halloween, you can recreate this look, a little black crepe paper some lace et viola! You will be chic, sultry, and sooo Sienna!
OK! GALLERY: HOLLYWOOD'S HOTTEST VAMPIRES SCREAM ON THE RED CARPET
Who needs Halloween when you get to play on set with vampires and werewolves take after take after take! Especially when your castmates are Robert Pattinson and Taylor Lautner. Everyone's favorite Twilight starlet is seen here in one of the most beautifully geometric and modern pieces of fashion I have seen in some time. Brava, Kristen Stewart!
I sincerely think Nikki Reed is stunning! I would love to revamp her wardrobe though! She could really be this generation's Ava Gardner!
OK! GALLERY: THE SCREAM AWARDS PACK A PUNCH WITH A-LIST STAR POWER
What is it that makes us romanticize the vampire? In folklore they are the most desired, in film they are given such appeal. The phenomenon fascinates me! I remember when I was first introduced to the public TV eye, they used to call me the fashion vampire, but why? Did I exude sensuality, romance? HA! Or was it my fair skin and dark hair ? Haha! Darlings, enough about me, let,s talk about the hottest vampire awards issued in Hollywood this week. The men were the fashion idols of the night wearing everything from form fitted blazers (Ian Somerhalder has always been a fashion favorite of mine) to fantastic vintage leather. Bravo, David Arquette!
Well, darlings, I hope I made your decision on costuming a little easier, I sincerely hope you will find the perfect costume to bring out your inner star this season!
And as an added bonus, be sure to check out Malan's Breton's Hollywood Glamour trunk show HERE!
Love and Glamor,
Malan Breton
Follow Malan on Twitter at twitter.com/malanbreton and on Facebook!