NEWS
Malan's Musings: Fashion Friday is Here!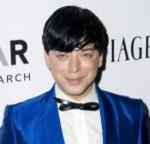 Every week at okmagazine.com, accomplished designer Malan Breton takes a look back at the week in fashion — the Do's, the Don'ts and everything in between! Join Malan and OK! for Fashion Fridays!
"I'd like to teach the world to sing in perfect harmony..."
OK! GALLERY: PARIS HILTON PREPS HER PUPS FOR THE BIG DAY
Oh, darlings, the generation of the flower child has returned, we saw it on the catwalks for spring 2011 this season and now on fashionista Paris Hilton. It sort of amazes me that fashion at times can literally be a history assignment. What a great era that must have been to live in. Not very different from ours I see! Well, darlings, my grandmother told me never too discuss two things in public, hemlines and coral lipstick! HAHA!
Article continues below advertisement
Kim Kardashian in her earth child chic ensemble is seen in NYC looking like the a two-page spread in a'70s copy of Vogue, so chic!
OK! GALLERY: HEIDI KLUM TOWERS OVER HER HALLOWEEN PARTY IN ROBOT COSTUME
Darlings, I applaud Heidi Klum for having the best costume on Halloween! I must say one of the most stunning women in TV is Kelly Choi! Even in this bride of the dead costume, she looks STUNNING! I love Coco and Ice-T for their sheer sense of camp... Bravo!!!
Article continues below advertisement
I loooooove Christian Siriano's costume! I love that every year he finds these genius Disney characters and turns them into Siriano style couture. Bravo darling!
OK! GALLERY: DUE DATE DUDES SHOW OFF THEIR BABY IN NYC
Oh dear! It appears one of my favorite actors Robert Downey Jr. walked under a tree filled with pigeons after lunch hour. Sadly they soiled his blazer before he hit the red carpet. HA! Only joking!
Wel,l until next week darlings, beware of pigeon-filled trees.
And as always, I wish you love and glamor,
Malan Breton
Follow Malan on Twitter at twitter.com/malanbreton and on Facebook!