NEWS
Man Arrested for Allegedly Stalking Ryan Seacrest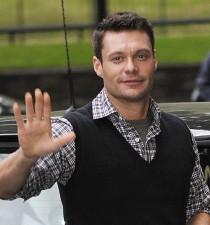 UPDATE 3:26 p.m.: E! confirms alleged Ryan Seacrest stalker is Chidi Uzomah, and that the armed man showed up at the offices just before 10 a.m. this morning. He was in possession nof a three-inch folding knife, but never got close to Ryan.
Uzomah's red Pontiac Thunderbird remains parked outside the E! News studio and was found to contain a variety of telling (and random) objects: multiple maps of West Hollywood and Beverly Hills, a screwdriver, towels, clothes and a spare pair of shoes, water bottles, a receipt from Jack in the Box, Q-tips, rock crystals and a blue tarp.
Article continues below advertisement
TMZ reports a man has been arrested for allegedly stalking Ryan Seacrest inside the E! building.
Sources say tell TMZ it's the same man who attacked Ryan's security guard with a knife last month, Chidi Uzomah, outside an Orange County hospital.
TMZ cites another source inside the building who says the suspect had a knife with him today and is being detained right now by LAPD in the lobby of the E! building.
Uzomah reportedly went to the lobby and asked to see Ryan, but the guard there knew who he was and called the cops.
We're told Uzomah went to the lobby and asked to see Seacrest. The guard was aware of Uzomah and E! called the LAPD.
Uzomah plead guilty last month in the O.C. hospital incident to three misdemeanors. The judge placed him on three years probation and ordered him to stay away from Ryan, who was reportedly in the building when Uzomah entered today.