NEWS
DWTS Watch: Brandy Elimated; Bristol Palin Makes the Finals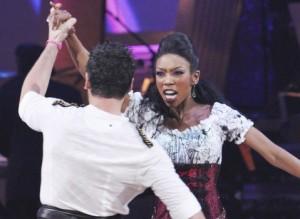 Even though Bristol Palin and her partner Mark Ballas were in last place for the 7th time coming into last night's results episode of Dancing With the Stars the pulled through to the finals and it was Brandy and Maksim Chmerkovskiy that were eliminated.
OK! GALLERY: DWTS CONTESTANTS HAM IT UP ON THE RED CARPET
Judge Len Goodman had requested that Brandy and Maks perform their "Argentine Tango" once again for last night's episode so the couple kicked off the show with a reprise.
Article continues below advertisement
After the crowd enjoyed a performance of "Universal Child" by Annie Lennox, the DWTS contestants were interviewed by Brooke Burke about their overall experience on the show.
Brandy said it's been the "best rollercoaster I've ever been on" and she "came in trying to be the best dancer possible."
DWTS helped Bristol "come out of my shell" and taught her to not "take herself seriously."
Jennifer Grey and Kyle Massey both agreed the show taught them to work hard. "Accept limitations and push through," Jennifer said and Kyle explained, "Everything is mental" and you have to "push through the pain.
DWTS WATCH: BRANDY & MAKS TANGO TO TOP SCORE; EMOTIONS RUN WILD
Jennifer and her partner Derek Hough were then the first contestants announced into the finals, but Kyle and his partner Lacey Schwimmer were the second pair to make the finals.
Enrique Iglesias then performed his hit song "I Like It" and Brooke interviewed the newly announced finalists.
"This is a huge moment. I can't wait for next week," Jennifer said. Kyle spoke to the remaining two contestants Bristol and Brandy and said, "It sucks one pair is going home, you guys both have a special place in my heart."
Article continues below advertisement
OK! GALLERY: THE STARS GET READY TO REHEARSE THEIR RUMBAS
And with that, Bristol, Brandy and their partners took the stage and the couple with the lowest combined score in week 9 was an announced. Brandy and Maks were eliminated.
"I don't know what to say, it hasn't processed yet," Brandy said after the announcement.
Judge Bruno Tonioli asked Brandy and Maks to come back next Tuesday to perform a freestyle. But Brandy seemed heartbroken by her elimination and buried her face into Maks shoulder to cry with tears streaming down her face.
Of the experience she says, "I'm a completely different person," Brandy said of her experience on DWTS and said of Maks that, "He's going to be a friend of mine forever."
After the show Brandy told reporters of her elimination, " I am numb. It's gonna hit me tomorrow, but I gave it everything I have I don't have any regrets at all. I'm so proud of me, and I say that humbly, and I'm so proud of Maks as well, I'm really tapped into a power that I think was gone and I'm so thankful for that."
Article continues below advertisement
And Maks is happy with the experience he had this season.
"She taught me that when one door closes another one opens and there's definitely a lot of doors open right now and whatever I said on the floor I mean, I never said I don't like Bristol Palin. I'm a dancer, not a politician," he told reporters. "This season I've been so focused on Brandy, I haven't looked at anyone else. It's probably been the most rewarding season for me because I didn't only do my job as a dance professional, but I helped a friend and in return I got more help than I could of ever hoped for. It's been a very challenging season and I got more support than I imagined."
OK! GALLERY: DANCING WITH THE STARS CAST COMPETES TO REHEARSE
So does Maks agree that Bristol should be in the finals?
"I agree that it's up to the people, and I embrace the fact that I'm here," he said.
And as for Bristol who's now in the finals, she told reporters her feelings won't be hurt if people say they were "shocked" by last night's results.
"I know I've worked hard to get where I am now, and I definitely feel like I'm the most improved dancer on the show, so I'm comfortable with that."
Reporting by Amanda Champagne