NEWS
Marc Anthony Denies Cheating as Cause for Jennifer Lopez Split: "It Wasn't Shocking"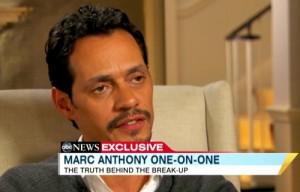 In his first interview since his split from Jennifer Lopez after seven years of marriage, Marc Anthony is defending himself against reports that the cause of their breakup was because he cheated.
OK! NEWS: MARC ANTHONY GIVES FIRST POST-SPLIT INTERVIEW: "I'LL ALWAYS LOVE JENNIFER LOPEZ"
It has been six weeks since Marc and J.Lo announced they're getting divorced, and now Marc is ready to speak out on the decision. Mainly, he's defending himself against the numerous reports that he was having an affair.
Article continues below advertisement
"It was a flight attendant, it was the pilot — I heard it was this guy sitting next to me in a rehab in Houston. I've heard it all," Marc told ABC News about the various affair reports he's heard.
Marc, however, can understand somewhat how those reports came about.
"People are trying to peg it on things because it was so shocking," he said. "It was like, It must have been something. … It wasn't something sensationalistic."