NEWS
Maria Menounos Powers Through 'Dancing With the Stars' With Broken Ribs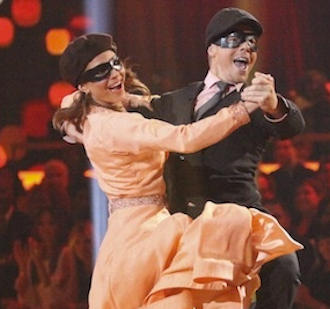 Article continues below advertisement
He explained, "We were trying to keep it under wraps because we didn't want to be 'that' couple coming out of the gate. It happened the week before the cha-cha. She's dealing with it, but we just want to smile and dance."
When they practiced that dance, Maria fell on his knee twice and didn't figure out what the problem was right away! "I was on a painkiller at that point because I'd already ripped the muscles off the bone a couple days before that," she said. "So I was already in pain when it hit."
OK! NEWS: CHERYL BURKE WILL HAVE AN EXCLUSIVE DANCING WITH THE STARS OK! BLOG!
After Maria received a set of Cortisone shots and her pain didn't subside, doctors concluded that her pain was the result of two rib injuries. Considering they snagged a score of 25 for their quickstep last night, the injury doesn't seem to affecting their scores. Their season total is up to 46.
Derek added, "She's healing really well and quickly. I've just got to keep her away from hugging people." Awww.