NEWS
Maria Shriver's Second Thoughts About Divorcing Arnold Schwarzenegger: "She Still Loves Him"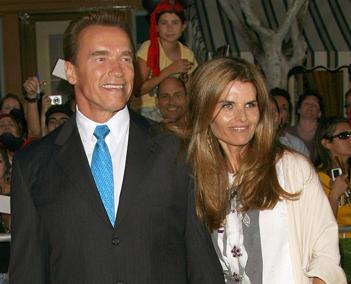 Article continues below advertisement
"She's definitely having second thoughts about going ahead with the divorce," says the family friend. "They've been married for 25 years, and Maria's played a crucial role in getting Arnie the Governor of California job. She loved the prestige of being wife of 'The Governator' and mixing in such high-profile and respectable circles. Remember, she's a Kennedy at heart and knows better than anyone the rush you get from hanging out in powerful circles."
But the source also says Maria's close friends, including Oprah Winfrey, are trying to get her to go through with the divorce, telling her that what Arnold did is unforgivable. "All her friends are up in arms that she's considering a reunion. She's close friends with Oprah, who would never encourage her to go back to a man who fathered a child with the housekeeper," the family friend adds. "Then again, the Kennedy women are renowned for putting up with unfaithful husbands and suffering in silence — it's a family trait."
Article continues below advertisement
OK! NEWS: MARIA SHRIVER & ARNOLD SCHWARZENEGGER REUNITE FOR SON'S BIRTHDAY PARTY
The true reason Maria is thinking about taking Arnie back is because she realizes how much it would mean to their four children — Katherine, Christina, Patrick and Christopher — if they tried try to work things out. The family spent Christmas at their Brentwood, Calif., home and even went to the Los Angeles Lakers' season opener together!
"The thing with Maria is she still loves Arnie. She worked hard at their marriage, and now that she's got over the shock and anger, there's still a place in her heart for reconciliation," the friend explains. "They had some magic moments over Christmas and seeing the family all together and enjoying themselves was very emotional for both of them. There's no doubt the kids are desperate for them to get back together. Now that he's not entrenched in office anymore, he's got more time to give Maria the attention she needs to forgive him."
OK! NEWS: MARIA SHRIVER HIRES TOP DIVORCE LAWYER! IS SHE READY TO END THE MARRIAGE?
"People are saying she wants to halt the divorce on religious grounds, but that's not true," the source tells OK!. "It's simply because she misses the life they had together and wishes it could all go back to how it was before she knew about the adultery. In fact, part of her wishes she'd never found out."
What do you think — should Maria take Arnold back or follow through with the divorce?