NEWS
Mark Salling Says Gwyneth Paltrow is "Such a Sweetheart"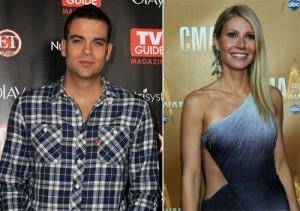 Mark Salling is quite the busy guy! Besides playing bad boy Noah Puckerman on the hit show Glee, he has also just released his debut album Pipe Dreams available now. On Saturday in NYC Mark spent the afternoon meeting fans and signing CD's at Soho's Guess store. He also revealed his dream guest star and how it was actually working with Gwyneth Paltrow!
Article continues below advertisement
How was it working with Ms. Paltrow? He told OK!, "She's such a sweetheart. She gave us all a wrap gift and I think that says a lot about her."
Although he didn't get to catch her perform on the CMAs, he did say what surprised him the most about working with her. "Just how cool and personable she was. And that she gave us a wrap gift! That was really sweet of her."
OK! VIDEO: GWYNETH PALTROW GETS DOWN TO CEE-LO'S "FORGET YOU" ON GLEE
He is also excited for potential guest stars Jennifer Lopez and Susan Boyle.
"I don't know if they've been confirmed but that would be awesome," Mark told OK!. "They're gonna make Jennifer Lopez a lunch lady or something like that."
And who would Mark love to have on the show? "Amy Winehouse." Who would she play? "Puck's girlfriend!"
OK! NEWS: GLEE CAP: "NEVER BEEN KISSED"; KURT INCHES CLOSER TO LOVE INTEREST
Of course she would! You can catch Glee (with Gwyneth!) this Tuesday at 9 p.m. ET on Fox.