NEWS
Mark Wahlberg and Sean Combs Unveil New Partnership—Wanna Know What It Is?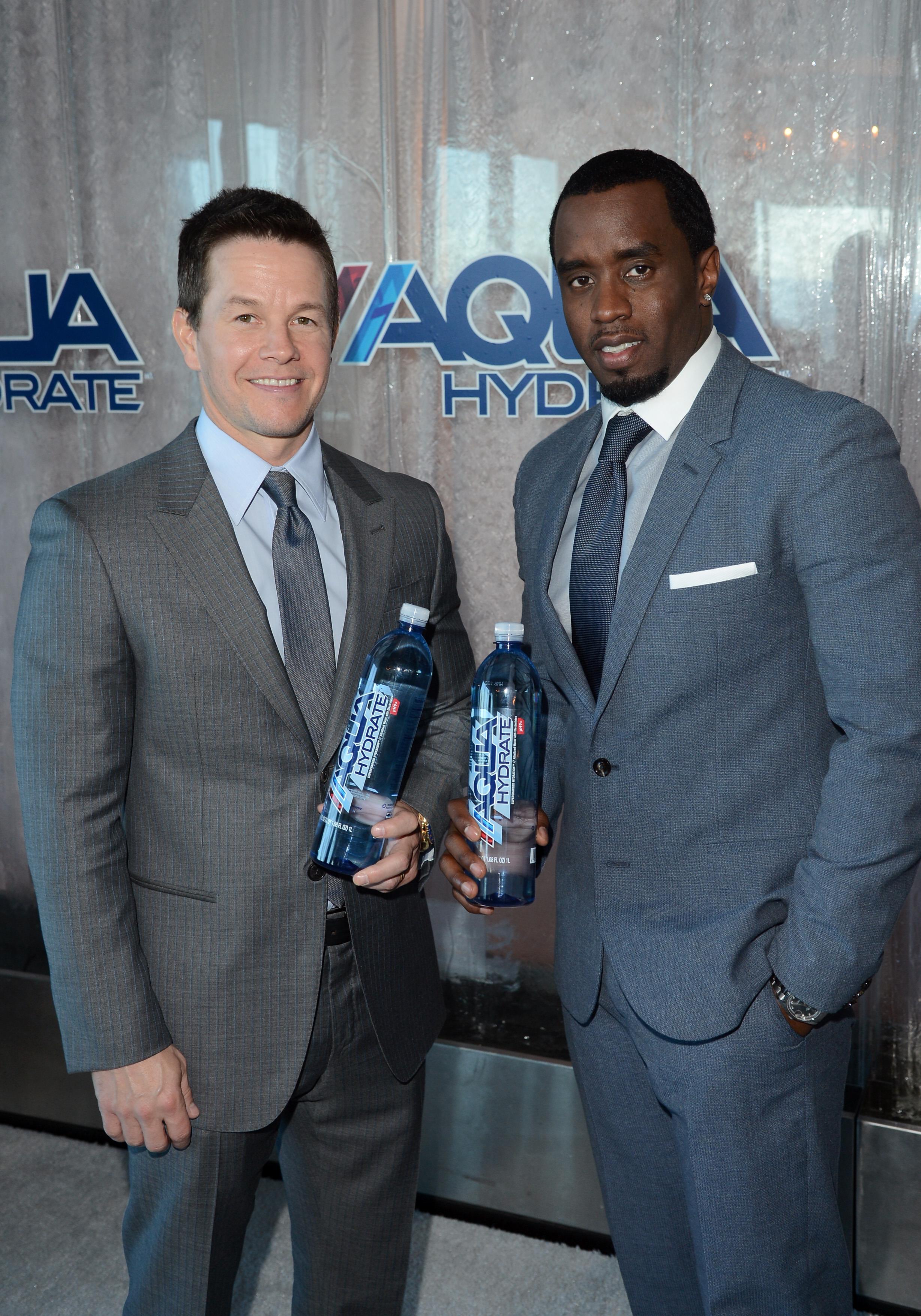 I am by no means a morning person, but when a media alert arrives in my inbox calling for a 9 AM press conference with Mark Wahlberg and Sean Combs, I'm so there. What could these two possibly have in cahoots? The next great odd couple buddy comedy? Doubtful. Bad Boy Records reuniting Marky Mark with the Funky Bunch? A girl can dream. My questions have been answered in the form of a water bottle—meet AQUAhydrate.
Article continues below advertisement
OK! News: Mark Wahlberg Set to Star in 'Transformers 4'
The high pH water with performance-enhancing electrolytes is the new joint venture between Mark and Sean, and after witnessing their camaraderie at the unveiling, there couldn't be two better partners and pitchmen for this product.
But why water? Mark explains.
"I'll be the first one to tell you, in all honesty, that I had no desire whatsoever to be in the beverage business," he admits. "I was training to do a movie called The Fighter, which I think you all have heard about, and (during) my length of time dedicated to making the movie, training for the movie I was introduced to the water by a friend who was trying to pitch me something else to invest my money in. I wasn't interested but as a friend I would hear the pitch and I said, 'Leave me some water.' I started drinking it and I immediately started to feel the results of the water. I was recovering faster, I was training better and I said, you know what, for my own selfish reasons, how do I get involved with this company so that I can at least continue to get free water?"
OK! News: Would Mark Wahlberg Want to Star in '50 Shades of Grey'?
Sean became involved after a chance meeting between the two entertainers at a boxing fight in Las Vegas, during which the hip hop mogul was curious about the watter bottles he caught Mark toting around.
"The real story behind my involvement is that I grew up in Harlem, New York and the favorite beverage of Harlem was Kool-Aid," he laughs. "Kool-Aid, all flavors, made with half a pound bag of sugar. Throughout the years that was my beverage of choice. I would never drink water. That's why I have so much flavor! As I started getting older and having kids it was important to have a balance in my life. The other waters didn't have what this water has, the balance that I need. So I fell in love with this water and that's the most important thing to me, as far as getting into business, it's falling in love with something that would naturally be in my lifestyle. I knew that this was the water for me to be in business with because my kids love it. I have six kids and once I started to see them drink the water, because they have my DNA and they were also Kool-Aid kids, it was proof to me that we could have success. Mark is probably the only person I can say that works harder than me, can market as good as me and this is a water that we're going to take all the way to the top. So I would like to announce, I am not a Kool-Aid kid anymore, I'm an Aqua Hydrate man!"
Article continues below advertisement
Watch: Sean Combs Cracks Up On Macy's Commercial Set
Mark took the opportunity to poke a little fun at his buddy, who has had success in the spirits biz with his own brand of premium vodka.
"He left out the most important part, Aqua Hydrate allows him to drink Ciroc all night and then he has a couple of AQUAhydrates before he goes back home and it's the miracle cure for a hangover," says Mark. "Drink this water and you'll wake up fresh as a daisy the next day. And that's how I got him on board! Some gentlemen need the little blue pill, the rest of us just need the little blue bottle."
Sean agreed saying, "Most people need specialists that can testify to that. But I am a specialist, I was at a party last night until 4 AM, and look how fresh I look today."
OK! News: How Adorbs is Mark Wahlberg With His Sons?
AQUAhydrate is already the top-selling bottled water at GNC. Expect to see the product rolling into a store near you very soon.
What do you think of Mark and Sean going into business together? Tell us in the comments below or tweet us @OKMagazine.