NEWS
Martha Stewart's Not Mad Over Daughter's New Book: "It Is Hilarious"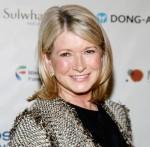 Martha Stewart's 46-year-old daughter, Alexis Stewart, has written a new book, Whateverland: Learning to Live Here, that pokes fun at her famous mother. But it turns out Martha has a sense of humor about it and isn't at all offended.
OK! NEWS: MARTHA STEWART ADJUSTS TO GRANDMOTHERHOOD
"I got an advance copy and actually read the book about a month, month and a half ago," Martha, 70, explained to her audience on her Martha Stewart Show today (via USA Today). "It's all about growing up — fabulous pictures, by the way. And it is hilarious and enlightening."
Article continues below advertisement
The release of the book has caused many fans to wonder how Martha feels about it, so she decided to clear up the rumors.
"It's not an autobiography, let's get that straight right now," she said. "It's irreverent and lots of fun...Making fun of good things is a good idea."
OK! NEWS: ICE QUEEN MARTHA STEWART HEATS UP THE STRIPPER POLE
Fans who have read the book, however, would have already known that. Alexis wrote in the book, "Thanks in advance to my mother for not getting angry about anything written in this book."
To be absolutely clear, Martha reached out to her daughter to have her explain some of her stories and Alexis told her, "Obviously what I said is an exaggeration of the truth."
So, what's an example of an "exaggerated" story Alexis shared about her mother?
"Martha does everything better! You can't win!" she wrote. "If I didn't do something perfectly, I had to do it again… I grew up with a glue gun pointed at my head."
But Martha's feelings aren't hurt.
"I must have instilled in her some good habits," Martha explained. "She's tall, beautiful, gorgeous and the mother of baby Jude."