NEWS
Mary-Kate & Ashley Olsen Cover 'Elle' UK & Talk End of Acting Careers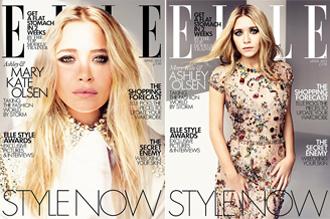 Article continues below advertisement
"I don't have to be a pretty face. I've done that, but now it's important and liberating to be on the other side of the lens. I don't like to be the center of attention anymore," Ashley tells Elle UK.
"It doesn't mean I'm not interested in Hollywood," she adds (via Huffington Post). "I like the way it operates, I like the people who are involved and the sense of possibility. But if I ever get back in, it's not going to be as an actress."
OK! NEWS: JASON SUDEIKIS GETTING COZY WITH MARY-KATE OLSEN NOT ASHLEY?
As for Mary-Kate, she recently played a small role opposite Vanessa Hudgens in the 2011 film Beastly but says "it just felt right to move away from the spotlight.
Instead, the twins will continue to focus on their design work and leave the acting to their younger sister Elizabeth Olsen.
You can see Elizabeth in theaters this weekend in the new scary movie Silent House.