NEWS
Masters Chairman on Tiger: "He Disappointed All of Us, Our Kids & Our Grandkids"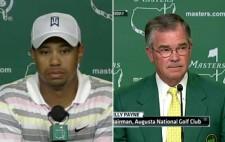 Billy Payne, the chairman of Augusta National Golf Club, held his annual press conference today and spoke about Tiger Woods' transgressions in a very blunt and direct manner.
Payne did not discuss the details of his Sunday afternoon meeting with Tiger or his chances of wining a fifth green jacket, but criticized Woods for his actions.
OK! NEWS: TIGER WOODS FOLLOWING SPIRITUAL TRACK ON GOLF COURSE
"It is simply not the degree of his conduct that is so egregious here," Payne said. "It is the fact that he disappointed all of us, and more importantly, our kids and our grandkids. Our hero did not live up to the expectations of the role model we saw for our children."
Article continues below advertisement
Tiger won four Masters championships and was invited by invitation this year, along with 95 other players, to compete in the Augusta National which tees off tomorrow.
"Is there a way forward? I hope yes. I think yes," Payne said. "But certainly, his future will never again be measured only by his performance against par, but measured by the sincerity of his efforts to change.
WATCH CHARIMAN BILLY PAYNE'S PRESS CONFERENCE ON ESPN HERE!
"I hope he now realizes that every kid he passes on the course wants his swing but would settle for his smile," he said. "We at Augusta National hope and pray that our great champion will begin his new life in a positive, hopeful and constructive manner."
Tiger spoke about being more in-tune to his fans and less "hot" on the course in his press conference on Monday.
Article continues below advertisement
"I'm going to try not to get as hot when I play," he said. "I made a conscious decision to try and clam down my negative outbursts, which may affect my positive outbursts as well. Have more respect for the game."
"Come game time, I'm going try to get the ball in the hole the best I can," he added. "But during practice time focus on the fans too..for them to cheer for me after everything that transpired in my life is just incredible."