NEWS
Matchmaker Tracy McMillan On Why 'Ready For Love' Will "Change The Way America Dates"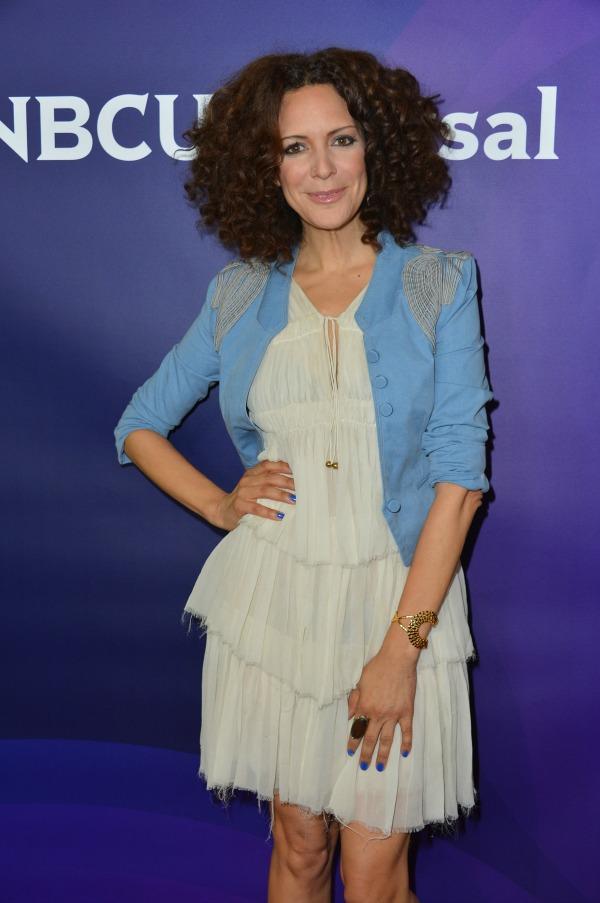 I know I'm not alone in announcing my excitement about Ready For Love premiering tonight on NBC (at 9 p.m. East). I'm more of a sitcom or heavy drama gal (seriously, is Breaking Bad back yet?) and not so addicted to the competition or relationship-type shows, but this one has me hooked. I truly believe these people are Ready For Love! So I sat down with one of the matchmakers on the show, Tracy McMillan. She is also the author of the life-changing book Why You're Not Married...Yet and owns the best head of hair I have ever seen on another human. We talked all about the show, relationships, and of course—her wardrobe.
Article continues below advertisement
OK!: What do hosts Giuliana and Bill Rancic know about marriage the rest of us don't?
Tracy McMillan: Everything. They are the two most lovely people with the most enviable marriage. Being around Bill and Giuliana, I said to myself, "This is what it is supposed to be like." And everything you see on the show, that's what they are in real life. They are two people that are in love, they have so much mutual respect, they have fun, they play, they are amazing together.
Watch: Does Bill or Giuliana change more baby diapers?
OK!: Some people are skeptical about finding love on TV. Why be optimistic about this show?
TM: Well first of all, we have matchmakers. The three of us each have our own philosophies that we bring and when you have someone who can essentially coach you through the process of meeting, dating and falling in love, you don't make dumb mistakes. Or at least you don't make them more than once!
Article continues below advertisement
This show went through a different casting process. Eva Longoria (executive producer of the show) went on The Today Show and invited women to submit themselves though Facebook. So the women on our show are not just a bunch of girls who want to be actresses, in LA waiting for an opportunity. They are actual women with actual jobs and from all over the country. And they are great girls. I will say something—the girls who do the best are the ones with the highest self-esteem. Because they're the ones that are able to continue to hold themselves together while the guy dates the other women. And they're not emotionally unstable about it, they love themselves. And they believe in themselves. So they're like, "Ok well take your time, figure it out, I know how awesome I am." They're not performing self-esteem, they ARE people with self esteem.
OK! News: How to do Coachella from your couch
OK!: Sooo what's wrong with these guys? They are hot and successful, how come they haven't found someone?
TM: I'll tell you how come. One of them lives in Austin, Texas; one of them lives in Dallas and one of them lives in Miami. And the fact of the matter is, those aren't the biggest towns in America. And if you're that guy it wont take long before you've dated most of the eligible women in your own town. I think they just wanted to open up to all the possibilities in the whole world. And then, to have matchmakers get involved? There's a saying "Don't try harder, try different". And I think these are really eligible guys, they really are committed to the idea of having a lifelong marriage and they thought, "Why not try something different?" Seriously, if I had a sister I would set her up with any of them. They are amazing men who happen to have amazing abs!
Article continues below advertisement
OK!: What are the women like that are competing for them?
TM: They're all regular girls! We have 2 or 3 teachers, women who work in marketing, bloggers, regular girls. I really saw it toward the end, the episodes where we went to the girls' homes and all of them lived in really nice houses and had nice families. It was such a testament to the guys that they had chosen the girls who really were the most solid people from the most solid families. These are people from all over, regular towns, just like the ones you live in.
Photos: What the celebs wear to workout
OK!: How much are you and the matchmakers involved in the process?
TM: We're in every aspect. We watch every single second of every single date. So we are watching them date, we're talking to the guys every week, we're talking to the girls all the time. We're in it.
OK!: Do the matchmakers get along? Where do you overlap on your philosophies and where do you not?
Article continues below advertisement
TM: Well I think we all believe in love and we all agree on the basic values, like it's about being a great character and it's about being compatible and all that stuff. Now how you get there? That's where we differ. Amber's got a matchmaking company, she comes from you know, your families should be similar, you should be the similar religion. She's very practical. Matt's very strategic and I'm like the best friend.
Photos: Hot Housewives fashion
OK!: Do you get competitive like The Voice when Adam Levine is saying to the contestants "I need you on my team!"
TM: It gets a little competitive! I think people are going to be rooting for one of the matchmakers but its not like you're rooting against a matchmaker. Maybe you prefer one person's advice over another but it doesn't mean you're against anybody. It's similar to the way you watch The Voice and root for one of the coaches, you'll root for one of us too. I was trying to figure out who I am… I'm the Cee Lo!
Article continues below advertisement
I honestly believe that this show is going to change the way America dates. Because you've never seen a reality show get into the process of meeting, dating and falling in love. And you've never seen people have help while they do it. You've watched them fall down and laughed. You've watched them get called out. But you've never seen loving, matchmaking, coaching happening as people try to date and fall in love, and be in a long term committed relationship on TV. These people are not just here for fame. That's why it feels different. You'll laugh, you'll cry, you'll say "No she didn't!"
Watch: A leading role for Kellan Lutz!
OK!: And most importantly, let's talk about your wardrobe for the show.
TM: The very first shoot date I had on this one dress and there was a feeling of "We don't really like it " and I said "I like it!" And I changed dresses at the last minute into this amazing outfit and the minute I put it on I was like "Oh yeah, I love this!" and it was a long dress to the floor, 70's, Diana Ross, Stevie Nicks, bohemian style. And after that I wore a long dress every week. That was my look. I love the clothes I wear on the show, it's a very stylish show!
Tune in tonight to see all the style and romance on Ready For Love, 9 p.m. East on NBC.
Plus I cannot recommend Tracy's book Why You're Not Married...Yet enough. Click here to buy it for you and a friend!
Would you go on a TV dating show? Tell us which one in the comments below or on Twitter @OKMagazine.