NEWS
Maternity Fashion Designer Liz Lange Gives a Reportedly Pregnant Jennifer Aniston Style Tips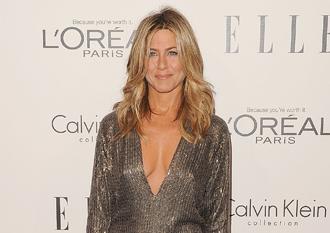 Star is reporting that Jennifer Aniston is pregnant... with twins! And OK! met up with maternity clothing designer Liz Lange to talk about Jen's future pregnancy style.
"Jen thinks she's having twins," a friend of Jen's tells Star, adding that the 42-year-old actress has been taking fertility drugs. "Jen was sure early on that Justin Theroux was The One, so they've been trying for a baby for a while," another insider adds.
Article continues below advertisement
Liz Lange, who cannot confirm the baby news, is excited to see what Jen will wear throughout her multiple birth pregnancy.
OK! GALLERY: SEE JENNIFER ANISTON AND JUSTIN THEROUX'S LOVE STORY CAPTURED IN NEW PHOTOS
"Jennifer has a killer body that she works on, so I imagine even if she's having a multiple birth pregnancy, that her style would stay the same," Liz tells OK! exclusively. "The problem with twins is that you get so big, but Jen has such a clean look. I could see her in a shift dress that's black and little heels or just straight jeans. I think clean is good, to me that's the way she should continue it."
Liz adds that Jen should show off her pregnant belly, and new cleavage, in fitted dresses that will accentuate her toned arms and great legs.
OK! NEWS: JENNIFER ANISTON VOTED HOTTEST WOMAN OF ALL TIME!
"I saw her recently at the Glamour Women of the Year Awards and there were rumors then that she was pregnant because she was wearing a black dress and she looked gorgeous, but she was showing off a little cleavage and looked a little bigger even," Liz explains. "But if she is pregnant, she can rock a little cleavage with a spaghetti strap or just a v-neck sweater. She usually rocks high heels, but I'd like a slightly lower heel on her," Liz, who's maternity line is available at Target, adds. "She could never look bad, even if she's pregnant with twins."
But, don't expect a pregnancy announcement anytime soon. An insider tells Star: "Jen's always said that she wouldn't announce a pregnancy until she was well into her second trimester."
OK! NEWS: JENNIFER ANISTON ADMITS SHE'S IN LOVE WITH CHELSEA HANDLER
Do you think Jen and Justin are going to be parents?
Make sure to check out Liz Lange's new line of diaper bags for Target, which will hit stores in January 2012.