NEWS
Matt Damon Rallies with Teachers on White House March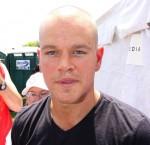 Matt Damon marched with teachers in Saturday for the Save Our Schools March to protest the use of standardized testing throughout the education system and to personally tell the teachers he thinks they're awesome. The Bourne Identity star has close ties to teaching; after all, his mother was one!
OK! VIDEO: WATCH GWYNETH PALTROW & MATT DAMON IN CONTAGION TRAILER
As he addressed the crowd, a bald Matt explained he flew in from Vancouver to New York and then down to Washington, D.C. just for the march. As noted by Huffington Post, Matt stated, "As I look at my life today, the things that I value about myself, my imagination, my love of acting my passion for writing, my love of learning, my curiosity, came from the way that I was parented and taught."
Article continues below advertisement
Vehemently opposing testing, he also talked about where he would be today if his teachers' job security back in the day was based on how he performed on a standardized test instead of embracing the learning process itself. He continued, "If they had to spend most of their time desperately drilling us and less time encouraging creativity and original ideas; less time knowing who we were, seeing our strengths and helping us realize our talents."
"I honestly don't know where I'd be today if that was the type of education I had. I sure as hell wouldn't be here. I do know that."